Best Cat Backpack Carriers to Use While Traveling With Your Cat

By Debbie Short     Last Updated April 20, 2020

KittyWire may collect commissions on purchases made from the links on this page.
If you have an adventurous cat that likes to go with you when you go on your adventures, the best cat backpack is one item you simply have to have. Not only does it make it easier for you to bring your cat, but it also works to ensure that your cat stays safe and secure the entire time.
However, there are many, many, many cat backpacks available in hundreds of sizes and styles, and this can make it challenging to decide which backpack is best. Our short buying guide will give you the highlights of these backpacks, explain why you'd want one, and then we'll dive into five reviews of our picks for the best cat backpacks around.
Our Top Picks for the Best Cat Backpack
Why Should You Buy a Cat Backpack?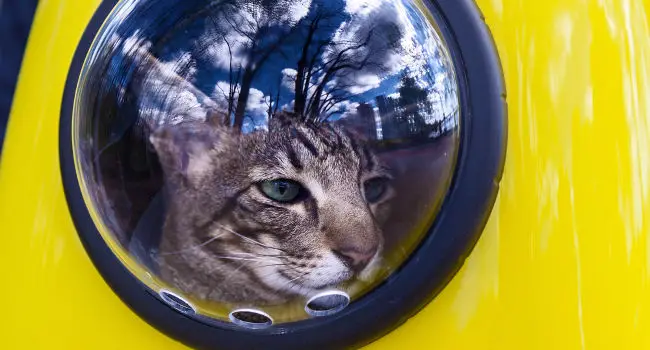 Most cats love to be outside when it's nice out, and you want a way to keep them safe, secure, and within easy reach. Although you could accomplish this with a leash and harness, a backpack adds another layer of protection between your cat and any unfriendly animals or scary noises.
Your backpack can also take the place of a traditional carrier when you have to take your cat to the vet or to a grooming appointment. They allow you to take your cat on adventures with you and bond with you simply because you're close to them for extended periods.
Benefits of Using a Cat Backpack
There are several benefits that come with using a cat backpack to take your furry friend out and exploring. The top benefits we rounded up for your include but are not limited to:
Convenience: If you've ever tried to take your cat outside, you understand what a struggle it can be. A backpack gives you a convenient way to load your cat up, secure them, strap the backpack on your body, and take your cat outside without the fear of them running off.
Height: Cats tend to feel more secure when they're safely off the ground and higher up in the air, and this is exactly what a perch in a backpack will do. They'll be able to observe the world around them while feeling like they're out of harm's way.
Novelty: Maybe you want a fun way to stand out and show off your cat. If so, a cat backpack can be a novelty item that draws people in for a closer look. They'll get to admire your cat at the same time!
Safety and Security: Most backpacks are very well weighted, and this prevents them from jostling or jerking around as you walk with them. This provides a sense of safety and security for your cat to enjoy, even when you're walking on uneven ground or rough terrain.
What to Consider When Buying a Backpack for Your Cat
If you can't decide between a few backpacks, there are some features that one may have over the other to help make your choice easier. Our quick outline will give you several things to keep in mind when you start to compare the various styles and brands.
Comfort
Since you're going to be the one carrying your cat around and your cat can weight up to 20 pounds, you want to be sure that you're comfortable the entire time. Things like padded shoulder straps, a padded back, rubber hand grip, and a waist strap can help to keep you comfortable on extended hikes.
Durability
You want your new cat backpack to be a durable item because this can be a more expensive investment depending on how large you want it and the brand. Pay close attention to the material, corners, seams, and zippers. You want to see double stitching, heavy-duty zippers, and reinforced corners and seams to ensure that your cat's backpack is durable and will last.
Ease of Use
It should be straightforward and easy to get your cat into your backpack and back out of your backpack. The openings should be large enough to accommodate your cat's size, and you want to see larger zippers or buckles that are fast and easy for you to open or secure.
Safety Features
Keeping your cat safe and secure the entire time you have them out is the whole point of a cat backpack, and you want to see built-in safety features. Your backpack zippers should lock once you have them closed off, and you also want to see a leash that can attach to your cat's collar or harness to keep them in the bag.
Shape
Cat backpacks come in several different shapes ranging from a dome to a triangular shape and a rectangle. The dome and triangular shapes are good for smaller cats, but the square or rectangle shape is good for larger cats because you won't have to worry about they hitting their heads when they move around.
Size
Just like any other carrier, your cat backpack should be more than big enough for your cat to sit up and turn around in without being squished or right against the sides. Also, remember to include at least a little space for your cat's food bowls if you intend to feed them while they're in the backpack.
Storage Space
Unless you plan to bring two bags with you every time you bring your cat outside in their backpack, you're going to want a few smaller storage spaces available. You can stash your cat's treats, bowls, waste bags, leashes, harnesses, collars, and much more in these small side or front compartments.
Ventilation
No matter the type of backpack you purchase, it should have excellent ventilation capabilities built into it to ensure that your cat stays comfortable. Many backpacks come with mesh windows or holes that you can open and close at will to get a good cross breeze flowing to keep your cat cool.
Top Five Cat Backpack Picks
1. PetAmi Deluxe Pet Carrier Backpack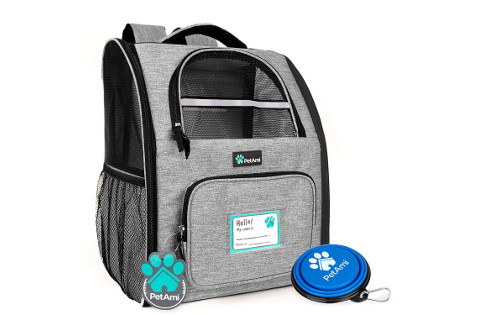 This durable and luxurious backpack comes in 12 different color combinations with three large mesh openings to ensure adequate airflow and comfort as your cat rides in it. There are two entryways on this backpack that make it quick and easy for your cat to get in and out when you're done carrying them.
This backpack's back and shoulder straps come with a thick layer of padding that ensures you stay comfortable the entire time you carry your cat with you. It comes with a small storage compartment and a collapsible food and water bowl that are convenient and easy to use.
There are waist buckles that give you added support when you wear this backpack in addition to the shoulder straps. You'll get a leash attachment point inside the backpack that can keep your cat secure when they're inside, and the fleece lining helps to ensure that your cat stays comfortable throughout the journey.
Cat parents who bought this backpack liked that it had several storage pockets in the front and on the sides for their cat's food, bowl, toys, and more. Cat parents did say that this backpack is better suited for smaller cats or it digs into your lower back as you walk.
Things We Liked
Features a secure leash attachment point
Comes with several small storage compartments
Has a waist strap for additional support
Things We Didn't Like
Not suited for larger cats
Can dig into your lower back if it's off balance
Straps may not have enough cushion
2. Anzone Pet Space Capsule Carrier Backpack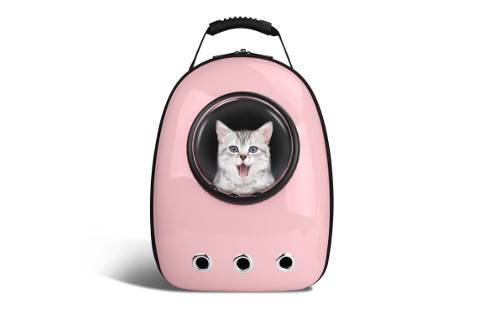 This futuristic cat backpack allows you to attach a portal window or a thin mesh lining to the front of it to allow your cat to see outside. The entire back of the backpack is also a thin mesh material that allows for decent airflow and ventilation when your cat is in the bag.
You can choose from three different sizes, several different styles, and a range of colors ranging from bright red to classic black, and this bag comes with a thin outer film that helps to prevent damage. It comes with a mix of durable cloth mixed with an eco-friendly polycarbonate fabric that ensures great breathability.
There is a very thin protective film over the outer layer of the bag to prevent it from scratching or scuffing when you use it. The straps allow for easy adjustment and balance, and the straps have a durable layer of padding that makes it comfortable for you to carry for extended periods of time.
People who purchased this backpack for their cats liked that it has the option of having a mesh lining or a clear dome for their cat to see out of. People who purchased this backpack did express concerns that it could overbalance due to the heavier weight in the front.
Things We Liked
Has a mesh lining on the back for breathability
Can have either a plastic bubble or mesh lining
Comes with a soft inner lining
Things We Didn't Like
Portal piece can scratch easily
May overbalance due to the heavier front
Bubble can pop off with enough force
3. Petsfit Soft Pet Backpack Carrier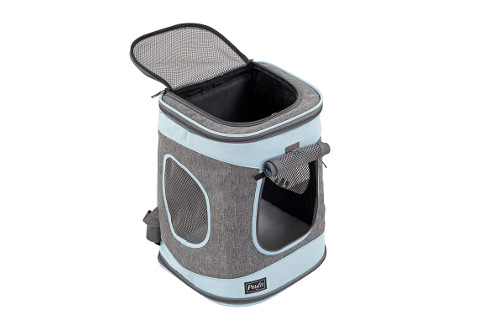 You'll get three rounded mesh windows supported by a durable bottom portion along with a larger mesh window on top that allows you to load your cat into the backpack. There's also a small strip of fabric and velcro that allows you to roll up the one window and keep it open.
The square design on this backpack is great for larger cats who need more room to sit up when you're carrying them in it, and you get an internal safety strap that hooks to your cat's collar to keep them safe. The stiff bottom provides a layer of support for your cat that keeps them from jostling around.
You'll be comfortable when you wear this pack because it features padding on the shoulder straps and on the back of the backpack where it rests against your shoulders. There is an additional chest strap that helps to provide another layer of support to help keep your back from aching.
Cat parents liked that this bag came with two non-skid feet on the bottom of the bag that kept it upright when they set it down with their cat in it. Cat parents did point out that this backpack doesn't come with any storage options or pockets.
Things We Liked
Has a larger square design
Comes with padding on the back and shoulder straps
Features a durable waist strap
Things We Didn't Like
Safety leash isn't very durable
Can sit too heavily on your lower back
Doesn't have any pockets or storage compartments
4. Texsens Innovative Traveler Bubble Backpack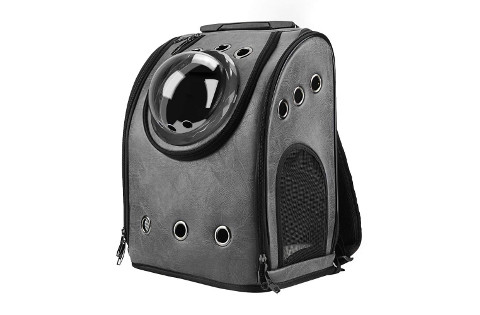 This backpack comes with a sphere window that you can quickly and easily swap out for a durable mesh window that allows your cat to see out. It comes with adjustable shoulder straps and a layer of padding to ensure that you stay comfortable when you're out and about.
The bag features several round ventilation holes along the top and bottom of the bag, and there are also mesh windows and ventilation holes in the glass sphere too. You can attach a security leash to your cat to keep them safe while they're riding in this backpack as well.
The sides and top of this bag zipper open and close, and the larger openings along the sides makes it fast and easy to put your cat in the bag or take them back out. There is a soft liner inside the bag that helps to keep your cat comfortable as they ride around with you.
Cat parents who purchased this backpack were happy that it came with a durable outer shell with a soft inner lining that was comfortable for their cats to sit and lay on. Cat parents did say that this backpack tends to trap heat due to the dark design that can make it uncomfortable for your cat.
Things We Liked
Features a portal window or mesh
Opens three different ways
Has a safety harness attached to the bag
Things We Didn't Like
Tends to trap heat and get very warm
Slightly heavier than other choices
May be too large or airplane travel
5. Pawfect Pets Soft-Sided Pet Carrier Backpack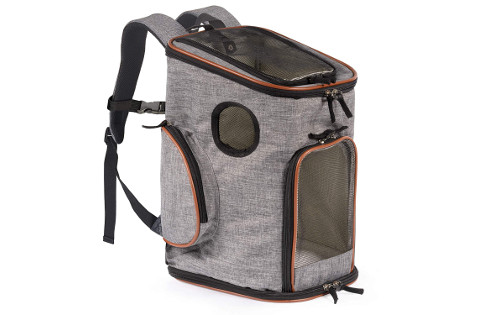 This dual-use backpack works like a traditional backpack, and you can also lay the backpack down on the side to form a handy traveling carrier that fits in your seat. It has a square design that is great for taller or larger cats who like to sit up when they're in their carrier.
The heavy-duty mesh on this backpack comes designed to be resistant to clawing or chewing, and the zippers feature a small buckle that keeps them locked together to keep your cat inside the backpack. There are three larger openings that you can use to put your cat into the backpack, and it also has a leash attachment so you can leave the smaller window open.
Your cat will get two fleece pads that line the inner portion of this backpack to keep them comfortable, and you can remove these pads if it gets too warm out to have them in. The adjustable shoulder straps come with a layer of extra thick padding that helps to keep you comfortable when you carry it.
People who bought this item for their cat liked that you could use it two ways, and they liked that they could fold it up flat when they didn't need it. They did state that this backpack was slightly more flimsy and wore out quickly.
Things We Liked
Has dual usage
Comes with two removable fleece pads
Has large ventilation windows
Things We Didn't Like
Has a slightly thinner material
Zippers may not be as durable
Not suited for larger cats
What's the Best Cat Backpack?
Our pick for the best cat backpack is the PetAmi Deluxe Pet Carrier Backpack because we liked that it came with so many support options like durable shoulder straps and a waist strap. We also liked that this backpack came with a storage compartment and a collapsible food and water bowl.
The three large mesh openings were more than enough to assure us that our cats got great airflow and ventilation the entire time they were inside it. Finally, the durable zippers and leash attachment ensured that our cats stayed in the carrier and didn't escape while we had them out and about.