Best Cat Chew Toys for Teething Kittens and Adults Who Chew a Lot

By Debbie Short     Last Updated January 18, 2022

KittyWire may collect commissions on purchases made from the links on this page.
Finding the best cat chew toys can be a difficult challenge to undertake because you want something that your cat is going to naturally go to and chew on while still being durable enough to last. We understand this, and this is why we picked out five different teething toys and reviewed them for you to compare.
Before we get into the reviews, we invite you to take a look at our comprehensive buying guide because this will give you a good idea on what you want to keep in mind when you shop. We've also included information on how long the teething stage lasts, and why you want to get your kitten a teething toy in the first place.
Our Top Picks for the Best Cat Chew Toys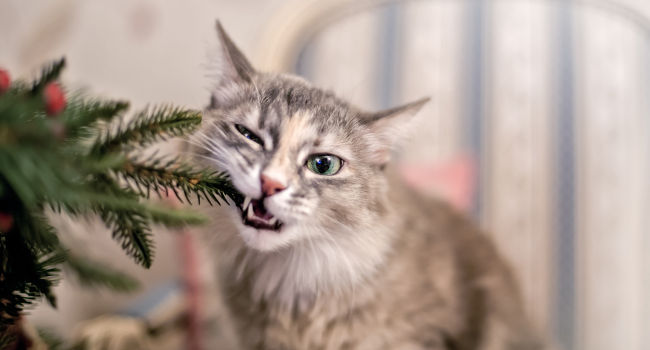 Kittens teeth just like puppies and human babies do. They get their teeth in stages, and this is why you'll notice that your new kitten goes through a teeth stage. The teething timeline is as follows:
Two Weeks Old - Your kitten is born with no teeth, but this starts to change when they get their small front teeth. Their little milk teeth will slowly start to come through their gums.
Four Weeks Old - At this stage, your kitten will start to get more milk teeth. Four weeks old is when your kitten gets their small front incisors or fangs.
Six Weeks Old - Six weeks old is when your kitten's baby premolars start to come in. They'll end up with 26 milk teeth by the end of six to eight weeks old.
11 Weeks Old - Your kitten is not starting to lose their baby or milk teeth and get their permanent teeth. This is the start of the chewing stage because your kitten will want pressure to soothe their aching gums.
Four Months Old - At this point, your kitten will have lost their incisors and replaced them with their permanent teeth. They're still chewing heavily at this stage.
Five and Six Months Old - All four canine teeth are in place by five months as well as all 10 premolars by month six. The last four teeth won't come in until your kitten is over a year old, and they'll end up with 30 permanent teeth.
It's normal for kittens to experience some discomfort when they start to lose their teeth and get their permanent teeth. Some signs that you want to watch for so you know when to give them teething toys include:
Eating Less - Your kitty's gums could be sore or tender, and this makes them hesitant to eat as much. Teething toys can help soothe these minor aches and pains.
Chewing - Excessive chewing is one of the earliest signs that your cat is teething. They'll chew your furniture, cupboards, fabric, or anything that they can get in their mouths.
Sore Gums - Smaller signs that usually clear up on their own include things like inflamed gums, minor bleeding, drooling, bad breath, and minor swelling.
Cat teething toys are more durable toys that are specially designed to entice your kitten to chew on them. They're usually made with more durable materials and different textures that make them able to withstand constant chewing.
Teething toys are also another way to keep your cat from chewing on your items because they'll be attracted to the toy. Finally, chewing toys can help to relieve any pressure your kitten might be having in their gums, and it can also help to clean their teeth.
Buying Considerations for Teething Toys
There are several things that you want to keep in mind when you're shopping for your kittens new chewing or teething toy. Even though they're not that expensive, you do want them to last for more than a few days.
Catnip
A lot of toys come with catnip packed into the body of the toy because catnip acts like a natural lure that brings your kitten back to the toy again and again. If your cat doesn't like catnip or if you don't like how catnip makes your kitty act, you'd avoid teething toys with this herb in it.
Durability
Durability is arguably one of the most important points that you want to consider when you're looking at teething toys because this will directly dictate how long the toys last for. Look for things like double stitching, reinforced corners or parts, a durable fabric, and edges that won't fray or tear.
Features
You don't want to give your kitten a boring toy that doesn't have any different sounds or features because they can get bored with it. Whichever teething toy you pick out should feature things like crinkly paper, rattles, catnip, or different shapes and sizes.
Lightweight
Your kitten won't be able to lift or carry around a teething toy if it's very large, awkward, or heavy. Look for a lightweight and smaller toy that is specially designed to fit your kitten's growing size. This will help to ensure that they stay entertained by the toy and use it more than one time.
Textured
A textured toy can have things like different fabrics, different shapes, two or more types of stuffing, or knots. All of these different textures will help to keep your kitten entertained, and they'll also work to help clean your kitten's teeth and massage their gums as they chew on it.
Our Top 5 Picks for the Best Cat Chew Toys
1. HDP Petstages Nighttime Catnip Rolls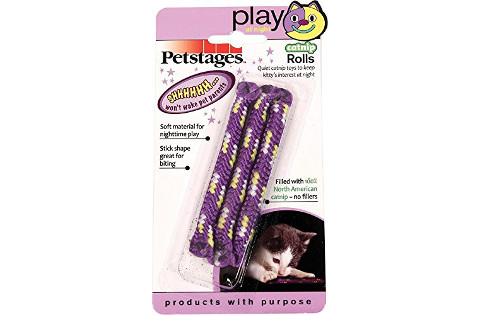 These catnip rolls by HDP Petstages is the perfect way to give your kitty something to chew on all day or all night to keep them from chewing on your belongings. The soft rope outer layer is durable enough to withstand constant chewing without fraying at the edges or breaking apart.
The inside of this teething toy comes filled with 100-percent North American catnip that attracts your kitty to the toy and holds their attention for hours at a time. It's also a shorter and smaller design that allows your kitty to pick it up and carry it around as they move throughout your home.
You get three individual rolls that help to ensure that your kitty has enough of these teething toys to last throughout the teething stage. The toy is also designed to be quiet enough for your kitty to use at night without disturbing your sleep because the catnip provides a quiet cushion.
Kitty parents who bought this teething toy liked that it came in a smaller and lighter shape that was easy for their kitty to pick up and carry around. Kitty parents did mention that the catnip does tend to trail around the house.
Things We Liked
Filled with 100-percent North American catnip
Get three rolls per package
Outer layer is durable enough to withstand constant chewing
Things We Didn't Like
Catnip can leak out
Ends can fray with rough biting
May have rough or sharper corners
2. Petstages Dental Health Cat Chew Toy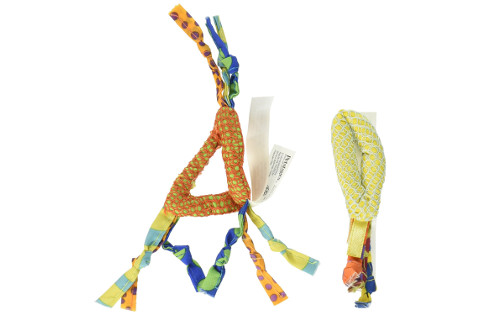 These soft but durable kitten teething toys by Petstages come filled with catnip and catnip stalks that crinkle when your kitten bites on them to encourage continued play. The outer netting is durable enough to withstand rough play or chewing without tearing or breaking.
The toys are specially designed to clean your kitten's teeth, remove plaque, prevent tartar build-up, and massage your kitten's gums to provide relief. Each toy comes in a fun shape with knotted streamers that will engage your kitten and give them different textures to chew on.
These toys are designed to be very easy for your kitten to play with and carry around because they're very lightweight and small to suit your kitten's smaller size. The fibrous catnip stalks provide an additional texture and crunching noise that can keep your kitten curious and engaged with the toy.
Cat parents who bought this teething toy were happy that it was designed to be very lightweight with several tassels and knots for different textures. Cat parents did say that this particular teething toy was a little shorter and smaller than they expected it to be.
Things We Liked
Contains catnip and catnip plant stalks
Has a durable but lightweight mesh material
Comes with knotted tassels for different textures
Things We Didn't Like
Slightly smaller and shorter design
Tassels tend to fray at the ends
Easy for your cat to lose
3. Coolfm Catnip Toys Set Simulation Fish Shape Doll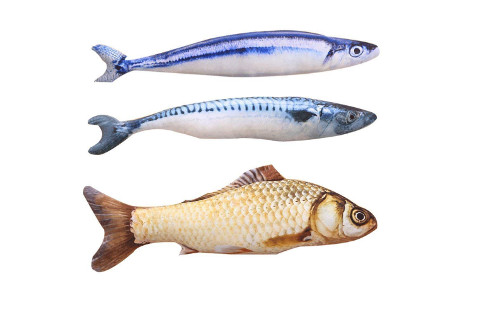 Coolfm's teething toys for kittens features a plush polyester fabric in the shape of a fish that surrounds a PP cotton and catnip cool that is designed to keep your cat entertained. You get three different fish in a variety of shapes and sizes each time you order this product.
The fins of these fish toys are made to be more durable than the bodies because this is the part you cat chews on because you stuff it with catnip. They're lightweight enough for smaller kittens to bat or carry them around without a problem.
Putting catnip in these toys and setting them in the sunlight will allow the fragrance to come back and attract your kitten for another round of playing and chewing. The outside cover is easy to wash and clean because you can toss it into your washing machine and tumble dry to clean it.
Cat parents who bought this fish-shaped catnip toy really liked that they got three fish in one order that came in a variety of sizes and shapes. Cat parents did mention that it can be challenging to get all of the catnip out to clean the toy.
Things We Liked
Get three toys in each order
Lightweight enough for your cat to carry around
Catnip scent comes back stronger when placed in the sunlight
Things We Didn't Like
Can be difficult to remove the catnip to clean it
May not be durable enough on the body to withstand constant chewing
Might be too awkward for smaller kitties to carry
4. Malier Cat Catnip Natural Matatabi Chew Sticks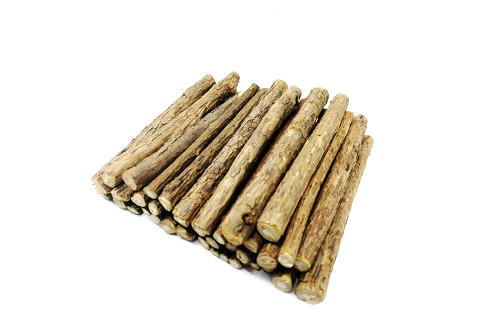 These dried Matatabi sticks are a 100-percent safe and natural teething toy that release a stimulant to entice your cats to come back after they start to chew on it. Each order contains 40 chewing sticks that let you cut layers off to make them last even longer per stick.
Matatabi sticks can help your cat with their teething issues while improving their oral health by cleaning plaque, preventing tartar buildup, and gently massaging your cat's gums. You'll get a small and lightweight chew toy that is light enough for your kitten to carry around with them.
These chew sticks can act as a gentle stimulant that encourages playful behavior like running around, scratching themselves, and it even encourages playful chewing. This chew toy comes with a 100-percent satisfaction guarantee if you're not totally satisfied with this product.
Kitty owners who bought these sticks liked that they got up to 40 sticks in each order, and they liked that these sticks stimulated chewing. Kitty owners did say that it could take time for their cats to notice this teething toy and want to play with it.
Things We Liked
Get 40 chew sticks per pack
Stimulates your kitten to chew on it
Very small and lightweight
Things We Didn't Like
May encourage your cat to play roughly
Can take a while for your kitten to notice it
Can leave small pieces when your cat chews it
5. Didog 5 Pack Interactive Cat Catnip Toys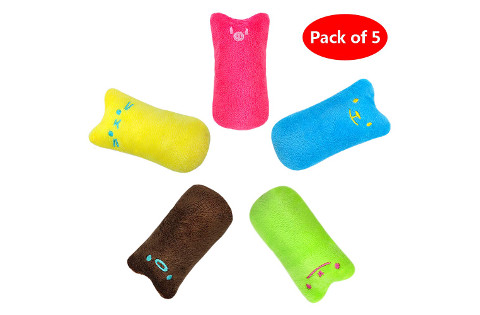 These small and interactive cat toys by Didog feature a soft but durable design that encourages your kitty to play and chew on them. These toys feature a plush design with cotton fabric for the outer layer and PP cotton mixed with catnip in the center.
You get five toys each time you order so you can have one for each of your cats, or you can swap them out when your cat wears one out. The bright colors of the toy's fabric help to ensure that your kitty doesn't lose these toys as they play with them.
These toys feature durable double stitching around the edges that help to prevent rips or tears when your kitten plays with it or chews on it. They're also small and lightweight enough for smaller cats and kittens to pick up and toss around without much effort.
Kitty parents who bought this chewing toy liked that it came in bright and bold colors that made it easy to keep track of when their kitty played with it. They did note that the cotton body of the toy didn't last long with constant chewing or very rough play.
Things We Liked
Comes with five toys in every order
Filling is catnip and cotton
Double stitching around the edges for added durability
Things We Didn't Like
May not withstand rough play
Doesn't have different textures
Slightly more expensive than other items
What's the Best Kitten Teething Toys?
Our pick for the best kitten teething toys is the HDP Petstages Nighttime Catnip Rolls because it is a safe and quiet toy for your kitten to play with both day and night. We liked that the outer layer was made out of a soft but durable rope that gave the kittens something to chew on without it fraying.
The inside comes filled with catnip to help keep your kitten coming back to this toy again and again. Finally, we also liked that you got three roles in every order that allowed you to give your kitten something to chew on the entire time they were teething.