Best Cat Carrier for Nervous Cats in 2022 with Top 5 Picks and Reviews

By Debbie Short     Last Updated January 18, 2022

KittyWire may collect commissions on purchases made from the links on this page.
Traveling with a cat can be a nerve-wracking and stressful experience for everyone involved, and it's worse if your cat gets nervous when you put them in their carriers. You'll feel bad if you know that your cat isn't comfortable, and this is why you want to pick out the best cat carrier for nervous cats.
Since there are dozens of brands and hundreds of styles available, it's very easy to quickly get overwhelmed when you first start browsing. We've picked out and reviewed our top five picks for you, and we've also put together a short buyer's guide that will tell you exactly what to look for in your new cat carrier.
Our Top Picks for the Best Cat Carrier
Why Cats Get Nervous in Carriers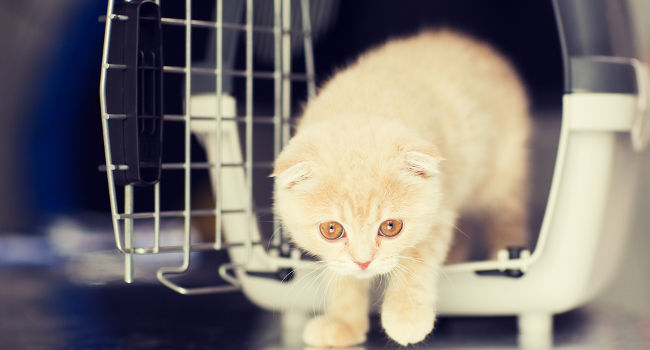 If you put your cat in a carrier, you're most likely going someplace unpleasant for the cat like to the vet. Your cat can start to associate the cat carrier with going to the vet, and this can cause their anxiety levels to spike each time you bring the carrier out.
This is why it's so important to get your cat used to being in and around their carrier when you first get them because this can help to curb their anxiousness. Also, your cat can sense your emotions, and when you stress out about putting them in the carrier, they stress out about going in and act out.
Different Types of Cat Carriers
One of the first things you'll notice when it comes to picking out your cat carrier is that there are many different types available to choose between. The different types of carriers work better for different types of travel, but they include:
Cardboard - A cardboard carrier is typically for new cat parents who bring their cats home from the shelter. They're not very sturdy, and this is why you don't use them for long-term containment solutions. They usually secure with cardboard flaps, and they have small ventilation holes along the top.
Hard Carrier - Hard carriers come made from some type of plastic that has ventilation holes or slits along the side and in the door. The door itself is made out of a metal material, and they have one or two doors that make loading your cat easy.
Roller Carrier - Roller carriers usually have soft sides, and they fit onto a rolling platform or on a stroller. These types of carriers are very useful if you have to walk long distances with your cat like through an airport on your way to the next plane.
Soft Carrier - Your soft carriers have a nylon frame with mesh windows and doors that you can zip up to secure your cat in the container. They also usually have a fleece bottom layer, zippered openings, and a few small pockets to carry your cat's food and bowls.
Related: Best Cat Backpacks
Once you settle on a type of carrier, it's time to start comparing the different carriers using several considerations. We've picked out the top considerations to keep in mind to help ensure that you get the best carrier possible for your cat.
Access Points
It should be easy to get your cat in and out of the carrier, no matter how much of a fuss they put up during the process. Getting a carrier that offers multiple access points is a good idea because it gives you options. Maybe your cat does better when you load them from the top or side.
Airline Approval
If you plan to take your cat on a long journey on an airline, your carrier has to meet specific regulations for approval. Every airline has slightly different rules and regulations, so get a copy of the one you want to fly on and compare it to your cat's carrier to ensure it fits.
Easy to Clean
Your cat carrier will eventually get dirty and need routine cleaning when your cat uses it, and this is especially true if you take it to the vet and need to wash the different scents off. Carriers with plastic sides are the easiest to clean, and you typically end up spot cleaning the soft carriers because you can't toss them into your washer and dryer.
Reinforcement
The steps the manufacturer takes to reinforce the carriers are critical because nervous cats tend to lash out. Look for things like double stitching, reinforced corners, a thicker mesh material, locking zippers, and a durable build material like plastic or nylon.
Size
Your carrier should be large enough for your cat to stand up and turn around without a problem, and they should also be able to lie down comfortably. Also, you may need room for food and water dishes if you're going on a longer trip, so remember to keep this in mind as well.
Ventilation
Since your cat is already nervous, you want to make sure that your cat carrier has more then enough ventilation slats or holes that give the illusion that your cat isn't stuck. Mesh carriers seem to work best for this because they usually come with very large windows on the sides and top that you can open and close to get a cross breeze going and keep your cat cool.
Waterproof Bottom
Most travel agencies insist that your cat's carrier comes with a waterproof bottom in case your cat has an accident or spills their water. Double check any carrier you buy if it's not hard plastic and make sure that there's at least a waterproof lining along the bottom.
Our Top Five Picks for the Best Cat Carrier for Nervous Cats
1. AmazonBasics Soft-Sided Pet Travel Carrier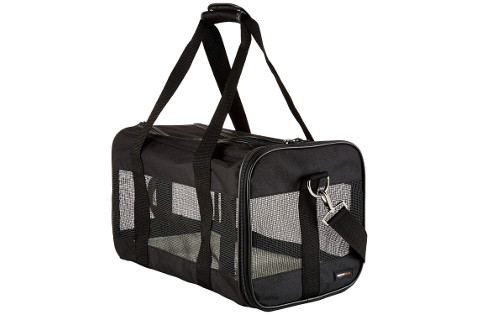 This carrier features soft sides with mesh openings all around that gives your cat the appearance of being in an open space. You can open it from the front of the carrier and from the top of the carrier to load your cat in quickly and easily.
There are carrying handles attached to the top of the carrier that feature a padded section that makes it easy to put this carrier over your shoulder or carry it by hand. There is an attachment point inside of the carrier for your cat's collar to help ensure that they stay secure during transport.
The bottom of the carrier features a removable fleece lining that is easy to clean and maintain, and you get the choice of three different sizes that makes it fast and easy to pick out the best size to suit your cat. You get durable zippers that are very easy to open and close.
Cat parents who bought this carrier liked that it has open mesh panels that allow for excellent airflow and ventilation to help keep their cats calm. Cat parents did mention that the zippers aren't as durable as the rest of the carrier.
Things We Liked
Has large mesh panels in all sides
Comes in three different sizes
Has a collar attachment to keep your cat secure
Things We Didn't Like
Zippers may not be durable enough
Can only spot clean the carrier itself
Sizes tend to run smaller
2. Premium Airline Approved Expandable Pet Carrier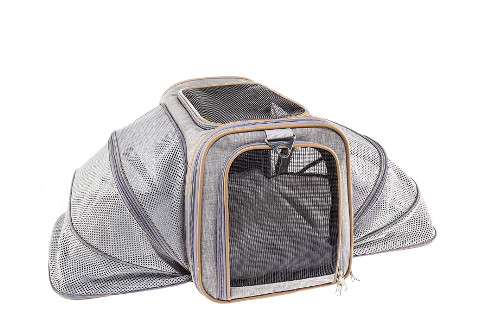 This expandable cat carrier features durable metal wiring to help support the sides when you have them out so they don't sag around your cat. This carrier can handle cats up to 14 pounds comfortably, and it opens from both ends and the top for easy loading.
The mesh ventilation material runs along one end, along the top, and out into the two expanding side pieces, so your cat doesn't feel closed in when they're inside this carrier. You'll also get a collapsible bowl when you order this cat carrier, and this bowl comes made out of a durable and safe plastic material.
There is a side slip storage space that is excellent for storing treats, the bowl, leashes, waste bags, and any other smaller items you want to bring with you. The durable handles come attached right to the entire sides of this carrier for added durability and stability when you carry it with you.
Cat parents who purchased this product liked that it came with a wire frame along the expandable sides that prevented sagging. They did mention that the shoulder strap that comes with the bag is slightly more flimsy.
Things We Liked
Folds up to a very compact size
Wire frame prevents sagging or drooping
Handles come sewn right into the side of the bag
Things We Didn't Like
Larger carrying handle may not be durable enough
Tends to get very warm if the sides are closed
Can be difficult to unzip the interior of the expanded sides
3. PetLuv Happy Cat Premium Soft Sided Foldable Top Pet Carrier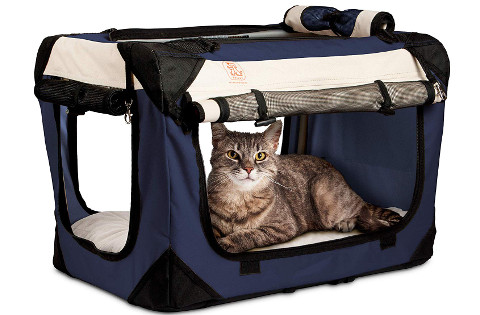 You can pick from two different sizes and three different styles when you choose this carrier, and it has the option to come with a wheeled platform or a stroller. It has four different color choices as well, and each color choice comes with sharp black accents.
Three sides and the top roll up and feature large mesh windows that make it easy for your cat to breathe and get excellent ventilation while they're inside the carrier. This carrier comes with adjustable seat belt loops that let you secure the carrier to your car to keep your cat safe and happy.
You'll get reinforced seams and reinforced corners combined with a rubber-based mesh to improve the carrier's overall durability. It also folds completely flat when you're not using it to make storage fast and easy, and the zippers lock into place for an added safety measure.
People who bought this carrier for their cats were happy that there were small flaps that secured the doors up in an open position when their cat wanted to lounge. People who bought this for their cat did mention that the rubberized mesh is prone to pushing out and staying that way if your cat applies pressure to it.
Things We Liked
Opens along three sides and the top
Can secure the sides in an open position
Zippers lock into place for added security
Things We Didn't Like
Rubberized mesh tends to cave in or push out
Zippers may not have a strong enough locking mechanism
Floor tends to sag in the middle
4. X-ZONE PET Airline Approved Pet Carriers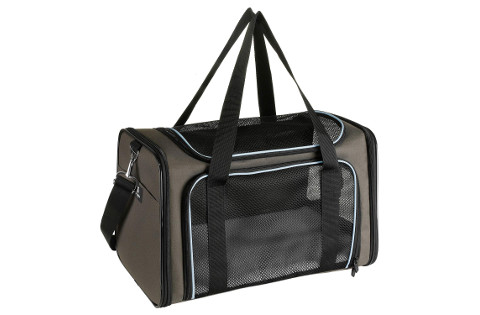 This durable carrier features sides that open up with a durable mesh covering that allows your cat to move around when you put them inside it. You can load your cat into the carrier through the two larger front and back openings or through the more narrow top opening.
The inside of the carrier features a short connection lead that snaps to your cat's collar to help keep them comfortable and safe when they travel or stay in the carrier. The entire bottom of the carrier comes lined with a soft and cozy fleece pad that you can easily remove to clean and maintain.
You'll get several small pockets that allow you to store a variety of food, treats, bowls, leashes, toys, and whatever else you can think of safely and securely. The zippers lock by themselves to add another layer of durability that can help to keep your cat contained when you're out and about.
People who bought this carrier for their cats were happy that it came with two larger openings and a smaller top opening that made loading their cats into the carrier easy. They did note that this carrier can have a stronger smell when they first take it out of the packaging.
Things We Liked
Very sleek and durable design
Has a smaller storage compartment built in
Zippers lock together to prevent escape
Things We Didn't Like
Can have a stronger smell
Sides tend to sag unless they're open
Tends to run small
5. Favorite Portable Two Door Top Load Pet Plastic Carrier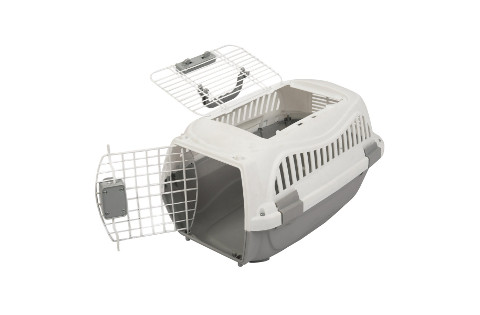 This cat carrier features hard sides with a metal door for excellent security, and it has two larger openings in the front and top that make loading your cat a breeze. The sides of the carrier also feature several ventilation slits that allow for great airflow.
The locking mechanism on both doors ensure that your cat can't unlock it and get out after you secure them in, and the carrier snaps together at four key areas to keep the crate together. You also have the option of screwing the two halves together for added durability.
The top handle of this carrier attaches right to the metal door on top of the carrier to ensure that it lasts and doesn't come apart. It's very easy to take apart to clean, and you simply wash it with soapy water and let it dry out or wipe it down with a cloth.
People who purchased this item for their cat liked that it had two openings that make it fast and easy to get their cats in and out of the carrier. People who bought this item did say that is has a slightly thinner plastic material for the body.
Things We Liked
Comes with two openings
Has plenty of ventilation holes and slits
Very easy to clean and maintain
Things We Didn't Like
Plastic is a thinner material
Only comes in a small size
Clips that hold the sides together are plastic
What's the Best Cat Carrier for Nervous Cats?
Our pick for the best cat carrier for a nervous cat is the AmazonBasics Soft-Sided Pet Travel Carrier because it features an open mesh design that allows for excellent ventilation and cross breezes. It has two entry points that make it fast and easy to load your cat up or let them out again.
The fleece lining is a nice touch to help keep your cat comfortable as you're out and about with them. Finally, we chose this carrier because it comes with strong grips with padding that allow you to carry it on your shoulder or in your hand.