Top 5 Best Floor to Ceiling Cat Trees With Buying Guide

By Debbie Short     Last Updated January 18, 2022

KittyWire may collect commissions on purchases made from the links on this page.
Your cat likes height and what better way to give them the height they crave while avoiding taking up a lot of additional floor space than by getting them a floor to ceiling cat tree. This type of cat tree simply means that it reaches to the ceiling, and it may have supports that fit tight against the ceiling to hold the cat tree in place.
Since there are thousands of cat trees available, it's extremely easy to get very overwhelmed when you first start browsing and comparing them. This is why we reviewed our top five picks, and we also put together a short buyer's guide that will help you understand why you may want to invest in one of these cat trees for your furry friend.
Our Top Picks for the Best Floor to Ceiling Cat Tree
Defining Floor to Ceiling Cat Trees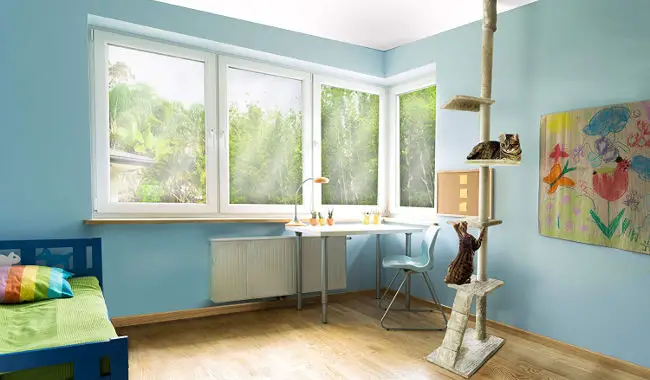 The first thing that you have to understand is that floor to ceiling cat trees can mean two entirely different things to different people. There is generally a wider and narrow category for these types of cat trees, and they are:
Narrow Cat Trees - Some people believe that floor to ceiling cat trees are meant to be so narrow that you have to connect it from the floor to the ceiling in order for it to stand up. These cat trees are very tall, very narrow, and they don't take up a lot of excess room.
Wide Cat Trees - Wider floor to ceiling cat trees reach to the ceiling for added support, but they have a wider base that means you don't necessarily need ceiling support for it to stand upright. These stick out more and take up more floor space.
Benefits of Floor to Ceiling Cat Trees
If you choose to go with the more narrow floor to ceiling cat trees, there are a variety of benefits that come with them. These benefits include but are not limited to:
1. Cost
These types of cat trees are typically less elaborate, and this makes them less expensive than other types of cat trees. They're also not as heavy or bulky, and this can help to reduce the cost as well.
2. Less Space Consuming
These types of cat trees spread upwards rather than outwards, and this can save you valuable floor space if you live in tighter quarters. They don't stick out as much, and you can have multiple ones in different rooms without a problem.
3. Additional Height
Your cat will enjoy fantastic views and vantage points from the higher platforms of this taller cat tower. Some of these trees allow you to adjust the platforms to take them even higher or lower.
4. Stability
Most of these cat trees sit on the floor and get additional support from a pole that goes straight to ceiling height and helps to hold the tree in place. You can typically adjust this to fit different ceiling heights, and this works to give you a more secure fit.
Related: Best Cat Trees for Large Cats
Why Get a Cat Tree for Your Cat
A cat tree is a nonviolent way for a multiple cat household to establish who is the dominant cat because they dominant cat will take the highest perch available on the cat tree. This can help cut down on the number of fights your cats have, and it's a great way to keep the peace.
A cat tree also provides safety for a more timid cat who wants to be out in the open to observe their surrounds but likes the security layer the extra height gives them. It'll eventually be saturated with your cat's scent, and she'll naturally gravitate to this area instead of under furniture.
Cat Tree Buying Considerations
Not all cat trees are the same, and there are several important parts to consider when you start looking at the different varieties and manufacturers. Ideally, you want to find a cat tree that fits the following criteria as closely as possible. It includes:
Fastenings
How does your cat tree go together? You want durable fastenings that are going to hold the various towers and parts together when your cat plays or runs around on them. Ideally, your cat tree's fastening should come made out of metal, and they should screw together with flat tops, so there's nothing to hurt your cat as they use it.
Height
You want a tall cat tower with varying heights on the platforms, but it should also fit comfortably with your ceiling height. Double check the height of the area you'd like to place your new cat tree, and see how it measures up to the cat tree height. This will give you a good idea of whether or not you'll make it fit.
Materials
You may be tempted to buy a cheaper cat tower that features thin fabric, particleboard platforms, and no sisal wrapping, but your cat can make quick work of this material. Instead, look for thicker platforms, a more plush and thicker fabric with padding, and sisal wrapping around the tower because you cat can safely sharpen their claws on it.
Platform Amount
You should have at least one platform for each cat, and more if you can manage it without the tower being too bulky. These platforms should be at varying heights, in varying sizes, and in varying styles. They may squabble over the highest platform, but they'll eventually settle in.
Size
Larger and wider cat trees are great if you have the floor space available, but they can stick out far, and this can be difficult to work around if you have restricted space. Take a look at the size, and see if the cat tree sits flush to the wall or sticks out, if you can adjust the platforms, and whether or not it has a wide base.
Stability
If you go with the more narrow cat tree, make sure that it adjusts to fit snugly from the floor to the ceiling. This will reinforce the stability of the cat tree, and it'll make it safer for your cat to climb on, lounge on, and enjoy in general. If it doesn't fit, see if you can adjust it.
Our Top Five Picks for the Best Floor to Ceiling Cat Trees
1. FurHaven Pet Cat Furniture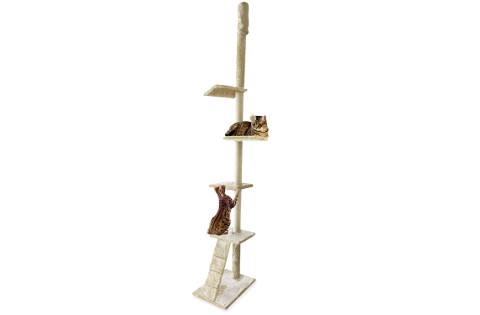 The Furhaven cat tree stretches to the ceiling and features nine different color combinations with 17 different styles that feature more compact towers, wider towers, and more activities. This particular tower comes with a short ramp with steps and four different platforms situated on varying sides of the tower.
Each post features a sisal wrapping that gives your cat different textures to sharpen their claws on, rub against, and be attracted to when they climb and lay on this tower. Each platform and the stairs themselves come with a plush coating that allows your cat to snuggle in and lounge.
This cat tree is very easy to clean because all you have to do is spot clean it with a mild detergent, blot it with a wet cloth, and allow it to air dry. The inner pole reaches to the ceiling for added support and durability as your cat goes up and down the various platforms.
Cat parents who bought this product were very happy that it is entirely covered with either a plush fabric or sisal for their cats to sharpen their claws. Cat parents did mention that lighter colors tend to show more dirt or debris.
Things We Liked
Easy to set up and adjust
Get plush platforms that are easy to clean
Comes in several styles
Things We Didn't Like
Lighter colors get dirty quicker
Fabric tends to wear along the edges
Can't set it flat against a wall for more stability
2. Cat Craft Three Tier Floor-to-Ceiling Cat Tree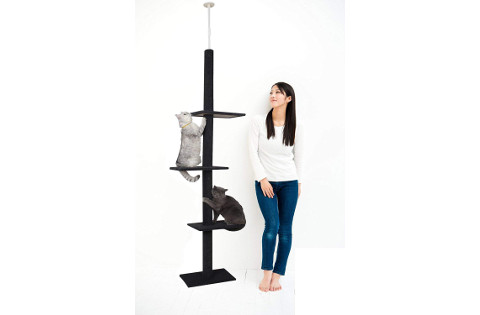 Your kitty will enjoy a cat tree that can safely and effectively adjust to fit ceilings up to nine feet tall for added stability and support. It features a smooth carpet fabric that is more durable against wear and tear.
The three shelves are slightly tiered, and this design makes it fast and easy for your cat to get from one tier to the other when they play or want to lounge at a higher perch. The carpet-style covering is a great medium for your cat to scratch on without worrying about tearing or shredding it.
You'll get a slightly wider base on this cat tree that offers more support for your cat when it climbs up to the higher points on this tree. The top portion is very easy to adjust, durable, and the white color blends very well with more neutral colors.
Cat parents were very happy at how easy this cat tree was to put together and adjust to get a snug and secure fit that didn't scuff or damage anything. Cat parents did say that it's difficult to get the pieces all of the way tightened, and this can make it slightly unstable.
Things We Liked
Has a smoother carpet-style covering
Metal top fits ceilings up to nine feet
Very easy to adjust and put together
Things We Didn't Like
Can be difficult to get all the pieces fully tightened together
Have to cut the pipe for shorter ceilings
Doesn't fit flush to the wall
3. Go Pet Club Huge Cat Tree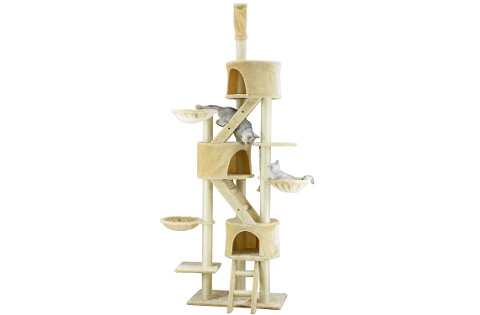 This huge cat tree features a variety of different play areas for your can to enjoy including three houses, three hammocks, three ramps, and two hammock-style areas for them to lounge. The top pole on this cat house provides excellent stability for the tree, and you can quickly and easily adjust it.
The cat tree comes covered with either a sisal rope for scratching on the poles or a soft faux fur covering that gives the can house a luxurious and soft feel. The wide ladders and platforms are excellent for both small and large cats to use without having to squeeze through.
You'll get easy instructions with numbered pieces and everything you need to put this cat tree together when you but it. It also comes with a very wide base to give the tree extra stability that your cats need if they run up and down it to prevent injuries.
People who bought this cat tree for their pet liked that it has several areas for your cat to hide and feel sheltered. People who bought it did comment that this cat tree tends to sick out more than other choices.
Things We Liked
Features several levels
Comes with wider stairs and platforms
Top pillar is easy to adjust for a snug fit
Things We Didn't Like
Sticks out more due to the larger size
Can have a stronger smell at first
Fabric isn't very durable
4. Trixie Zaragoza Adjustable Cat Tree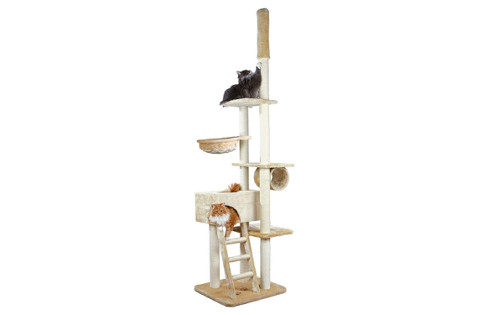 This adjustable cat tree by Trixie Zaragoza comes with a middle support that adjusts on the top from 87 inches to up 102 inches for people that have higher ceilings. Your cat will get to play and lounge on six different stories with this tower.
This cat tower features four shelves with two that wrap around, one hammock lounge area, a round tunnel for them to hide in, a covered structure to hide in, and a wide set of stairs. The support pillars on this cat tree come with sisal covering them that is great for letting your cat sharpen their claws.
The plush covering pads the lounge areas and the various stairs and platforms to make them comfortable for your cat to climb, play, or lay on for longer periods. It's also designed to have a slightly more narrow design that doesn't stick out into the room as much.
Cat parents who bought this item for their cats liked that it has wrap around platforms that make it easy for their cats to go from one level to the next. They didn't like that directions are slightly more complicated and difficult to understand.
Things We Liked
Has two areas for your cat to hide
Top has a wider adjustment range
Comes with a slightly more narrow design
Things We Didn't Like
May be difficult to put together
Better suited for smaller cats
Edges can tear through the fabric
5. CozyCatFurniture Giant Floor to Ceiling Cat Tower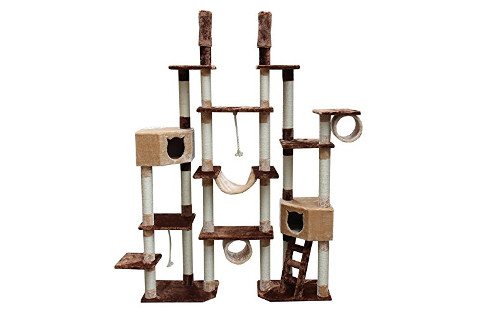 This huge cat tower by CozyCatFurniture features three pillars with multiple platforms, and it stretches between 85 to 95 inches tall. The entire tower features a soft and plush brown covering that makes it safe and comfortable for your cat to play and lay on.
Your cat will be able to play on 13 platforms of varying sizes and shapes, lounge in two tunnels, hide in two larger cat boxes, enjoy a hammock, and play with two rope toys. The wide base connects all of the pillars together for a very sturdy design.
Each post comes with a durable and secure sisal wrapping that is a great way for your cat to sharpen their claws without doing any damage. The entire tower has an easy to clean material that allows you to wipe it down with a damp cloth and allow it to air dry.
Cat parents who bought this huge cat tower for their pet were happy that had a wide range of activities for their cat to enjoy. Cat parents did mention that this tree was more time-consuming to put together due to the larger size.
Things We Liked
Has multiple levels
Features cat boxes, platforms, hammocks, and stairs
Very wide and sturdy base
Things We Didn't Like
Directions may not be clear
Can be time-consuming to put together
Takes up a lot of space
What's the Best Floor to Ceiling Cat Tree
Our pick for the best floor to ceiling cat tree is the FurHaven Pet Cat Furniture because you can so many different colors and styles to choose from. Each post comes wrapped with a durable layer of sisal for maximum durability that'll withstand heavy clawing.
We also chose it because it's very easy to adjust the top of the cat tower to fit snugly up against ceilings of different heights. Finally, this cat tower's plush fabric is durable, and it's also relatively easy to keep clean by blotting at it with a wet rag and letting it air dry.