Best Cat Tree for Large Cats: Buyer's Guide with Reviews

By Debbie Short     Last Updated January 18, 2022

KittyWire may collect commissions on purchases made from the links on this page.
Cats are curious animals that love to climb, scratch, and lounge up in higher areas of your house. The best cat tree for large cats gives your cat a safe play for them to play and romp up and down without worrying about them damaging your furniture.
However, you want to shop around because there are a lot of cheaply made cat trees available that may not be safe for your cat. We've rounded up the top five, and we've also put together a comprehensive buying guide because we want you to have everything you need to make an informed buying decision all in one place.
Our Top Picks for the Best Large Cat Tree
Reasons to Get a Cat Tree
There are several reasons for you to get a cat tree for your larger cat. These reasons include but are not limited to:
Dominance: One cat is typically more dominant than the other cats if you have a multiple cat household. This cat will be able to exert her dominance over the other cats nonviolently by taking the highest perch on the tree.
Exercise: Keeping your larger cat trim and at a healthy weight can be a time-consuming and challenging task. However, letting them run up and down a cat tower will give them at least a little exercise each day to help keep them from getting overweight.
Height: While humans look at the world horizontally, cats look at the world differently because they look at it vertically. A cat tree can help them get up to a high point in the room where they can easily watch everything that is going on around them.
Safety: Timid cats may like to have an area where they can get away from any other people or pets in the household. Additionally, the houses or tunnels give your cat a space to hide where they feel secure.
Scratching Areas: You don't want your cat to start to sharpen their claws on your furniture, door frames, fabric, or curtains. Most cat trees come equipped with scratching posts that encourage your cat to use this instead of your items. This can help reduce any chances that they'll destroy your property.
Stimulation: A lot of cat trees encourage mental and physical stimulation as your cat plays on them because they come with platforms, boxes, hanging toys, and more. This can help keep your cat mentally stimulated and happy when they play on it.
Different Types of Cat Trees
There are three broad categories that most cat trees fall into. Deciding on a type can help you narrow your search down right away. The three types include:
Cat Condo - Cat condos are one of the most popular types of cat tree for people with multiple cats because they include several platforms, levels, and areas for your cat to relax. They usually come with dangling cat toys and scratching posts built right into the condo.
Cat Post - Cat posts are a simpler version of the cat condo that typically has a bottom platform with a scratching post coming up out of the middle. The top of the scratching post is a small platform for your cat to lounge on.
Themed - Themed cat trees are typically larger structures with several stories of platforms, toys, tunnels, houses, hammocks, and some even have food bowls. They come in different sizes, styles, and patterns.
Cat Tree Buying Considerations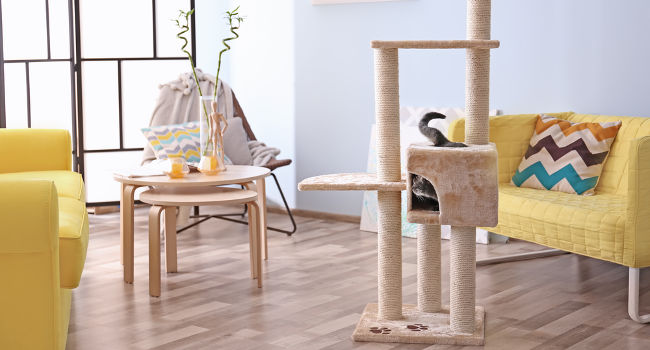 You want to know the important points to pay attention to when you shop for a cat tree. This will help to ensure that you get a safe and secure structure for your larger cat to play in that they'll enjoy for years to come.
Assembly
You want to make sure that your cat tree is easy to put together because almost all of them come in pieces that you have to assemble on your own. Look for larger pieces, that the tree includes all of the tools you need, and look for directions that are very clear and easy to follow.
Durability
Your cats are going to be using this cat tree every day, and this can put a lot of strain on the platforms and various pieces of the cat tree. Make sure that you double check the construction materials as well as any reviews of the product because people will tell you whether or not the cat tree was able to withstand their larger cat playing on it.
Features
Give your cat areas to play and hide in their new cat tree including platforms, housing boxes, tunnels, hammocks, and interactive toys like hanging balls or mice. This can help to keep your cat stimulated and wanting to play on the cat tree.
Price
Cat trees can have a huge price range that starts at around $60 and goes up to well over $600. It's a good idea to keep your budget in mind when you're shopping for your new cat tree because you want something that'll last without breaking the bank.
Size
Take the size of the cat tree into consideration because you want to be able to give your cat room to play while not taking up a huge area of your home. Ideally, the cat tree should be able to fit in a corner, so it doesn't wiggle around or have room to fall over when your cat plays on it.
Support
Your bigger cat will need a cat tree that comes equipped with features like larger platforms, wider stairs, and larger holes in the boxes for them to get in and out. If they have hammocks, make sure that the hammock will support your cat's heavier weight and larger size.
Stability
Your larger and heavier cat is going to be able to move smaller or less stable cat trees as they adjust themselves or go from one platform to the next. Look for cat trees that have wide bottoms, heavy lower platforms, anti-toppling grips, a flat back that sits flush to the wall, and a strap that you can bolt straight to the wall.
Top Picks for the Best Cat Tree for Large Cats
1. Go Pet Club Cat Tree Furniture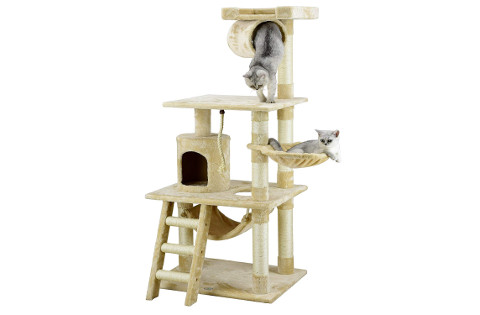 This large cat tree is perfect for bigger and more energetic cats because it stands 62 inches high and 26 inches wide at the base. Your cat will enjoy four tiered levels that feature hammocks, wide platforms, and sheltered boxes to give your cat a feeling of security.
This cat tree features durable scratching posts, interactive dangling ropes, and a very sturdy build that allows your cat to play until they wear themselves out. You also get the choice of four different colors, and the entire cat tree comes covered with a soft and plush fabric for maximum comfort.
You get all of the parts, tools, and instructions you need to put this cat tree together quickly and efficiently. Your cat will be able to climb up to the bottom tier of this cat tower by using the short and padded steps.
Cat parents who bought this cat tree were very happy that it comes with hammocks, platforms, covered houses, and even a short raised tunnel for their cat to play on. Cat parents who bought this cat tree did note that hammock tends to detach from the hooking mechanism easily.
Things We Liked
Over five feet tall
Features a variety of play areas
Very easy to put together
Things We Didn't Like
Hammack can come unhooked easily
Corners may be too sharp
Covering is thinner and padding is thin
2. FurHaven Pet Cat Furniture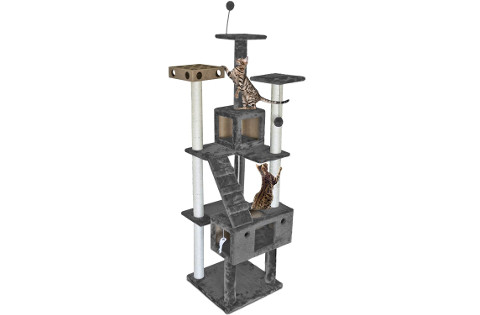 FurHaven's large cat tree comes in 17 different styles and eight different colors that allows you to customize the cat tree to suit your cat's tastes as well as your decor. This multi-level cat tree comes with four different levels that stands an impressive 69 inches high from the bottom to the top tier.
You get both large and small cat hangout spots with big openings in the cat boxes and a few smaller platforms. Your cats will enjoy scratching posts throughout the tower combined with several different interactive toys including a spring wand, hanging mouse toy, and a fuzzy hanging ball.
The entire cat tree comes covered with a very plush fabric and a thin layer of padding that lets you spot clean, and air dry it if it gets dirty or stained. The wider stairs, platforms, and bigger openings are perfect for heavier or larger cats to come and go as they please.
Cat owners who bought this cat tree liked that it has so many levels for their cats to lounge on and enjoy including boxes and platforms. They did say that this cat tree does take slightly longer to put together because there are so many parts.
Things We Liked
Comes with larger platforms
Covered with a soft and plush fabric
Has several levels and interactive features
Things We Didn't Like
Can take longer to put together
May be difficult to spot clean
Does not sit flush against the wall due to a twisted platform
3. MidWest Cat Furniture Cat Tree
MidWest Cat's cat tree features four interactive levels for your cat to enjoy including a house on the bottom tier, a platform with a toy on the second level and third level, and a sleeping platform on top. It comes in five different styles that feature different hammocks, platforms, beds, and toy placement.
The soft and plush fabric covers every tier to help ensure that your cat is comfortable the entire time they play or lounge on this cat tree. The platforms are designed to be slightly larger to accommodate bigger cats comfortably, and the bed has a larger opening as well to allow your cat to get in and out easily.
This cat tree comes with a full year warranty from the date of purchase so you can let your cat try it out and see if they like it or not. This tree is also designed to be easy and fast to put together with clear directions, and all of the tools you need are included in the purchase.
Cat owners who bought this large cat tree were happy that it comes with a full year warranty that allows their cats to try the tree out. Cat owners were not happy that the tower tended to wobble when their cats played on it.
Things We Liked
Comes with five interactive levels
Has larger platforms for bigger cats
Sits tight to the wall
Things We Didn't Like
Can be slightly wobbly
May have a strong smell when you first open it
Can take time to put together
4. SONGMICS 69" Multi-Level Cat Tree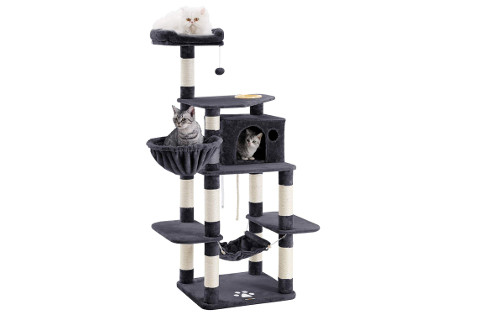 The Songmics cat tree comes with thick particle board that is reinforced by battens for added stability along with anti-toppling fittings that you can add for extra security. The reinforced scratching posts come on each level of this cat tree for convenience, and they're wrapped in durable sisal rope that temps you cat to use it.
Your cat will enjoy two hammocks, a large enclosed house, five platforms, a food bowl that's built in, and a bed at the top of the cat tree. The entire tower comes covered in a soft and plush fabric with a thin layer of padded that makes it comfortable for your cat to play on for hours at a time.
You can try this cat tree for 30 days and return it without a problem if it doesn't work for your cat because it's covered by a 100-percent satisfaction guarantee. There is an additional strap that attaches to the wall to give this cat tree even more stability to keep your cat safe.
Cat owners who bought this product were very happy at all of the safety measures that the company put in place for this cat tree including heavier boards, anti-toppling fittings, and a wall strap. They did note that this cat tree took slightly longer to put together.
Things We Liked
Has several safety features
Comes with a food bowl built in
Has padding and plush fabric covering it
Things We Didn't Like
Can be challenging to put together
Fabric can tear easily
Wall attachment strap is shorter
5. Cat Tree King Cat Tree for Large Cats
This multi-tier cat tree from Cat Tree King comes with every pole covered from the top to the bottom with durable sisal that encourages your cat to scratch it. This cat tree comes with four large platforms, two big hammocks, wide stairs, a large house, and a platform at the top for your cat to lounge in.
Each platform and the stairs on this cat tree come covered with a plush material that makes it comfortable for your cat to sleep or play on. Your cat will also enjoy an additional removable padded pillow on their top lounging platform that gives them a soft place to lay.
This cat tree is designed to be very sturdy because it has a wide base and it fits flush to the wall so your cat will have a hard time moving it around as they play on it. The hammocks on this cat tree rotate around to different positions for an added convenience as well.
Cat owners who bought this cat tree were pleased that it came with scratching posts with sisal rope wrapped around every pole because it encouraged their cats to use it. They did say that this cat tree does stick out from the wall more than other choices.
Things We Liked
Has a very sturdy design
Hammocks are tested up to 41 pounds
Features wide platforms and stairs
Things We Didn't Like
Sticks out more from the wall
More expensive than other models
Can be difficult to move with one person because it's heavy
What's the Best Large Cat Tree?
Our pick for the best large cat tree is the Go Pet Club Cat Tree Furniture because it has a larger design that features a variety of areas for your cat to play on including platforms, houses, and tunnels. We liked that the entire thing is either covered with sisal rope or with a plush fabric for added comfort.
This cat tree is easy to put together because it comes with all of the tools and instructions you need when you order it. Finally, we also liked that it has a wider base for greater stability and safety.