Best Couch Covers for Cats to Protect Your Sofa From Cat Scratching and Spills

By Debbie Short     Last Updated January 18, 2022

KittyWire may collect commissions on purchases made from the links on this page.
You love your cat, but you may not love it when they scratch your furniture and cause tears in the fabric. Specially designed couch cover for cats can help you combat this often frustrating problem by providing a durable barrier between your furniture and your kitty's claws.
Since we know how important it is that you pick out a couch protector that is both effective and functional, we picked out the top five couch covers and reviewed them. Before we get to the reviews, we invite you to check out our buyer's guide to find out what you want to look for in your new couch cover, why your cat scratches, and more.
Our Top Five Picks for a Cat Proof Couch Cover
Understanding Why Cats Scratch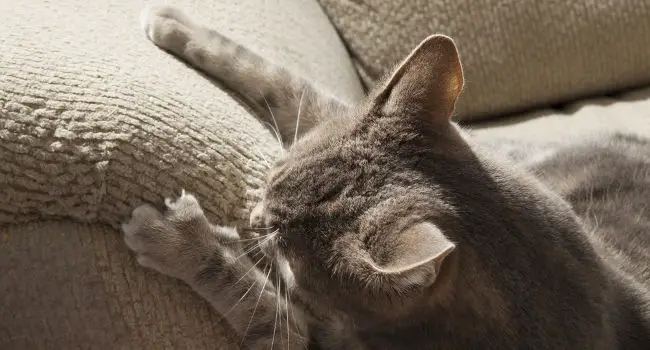 There are several reasons why your cat could pick one or two pieces of furniture as their favorite scratching post. According to the Humane Society of the United States, common reasons include:
Training Your Cat to Not Scratch
It is possible to train your cat not to scratch your furniture. However, you still may want to buy covers because it's not a guarantee that your cat will never scratch again.
Step One: Offer Other Alternatives
You can purchase a scratching post and set it in a strategic location to try and tempt your cat to scratch on this instead of on your furniture. Adding a bit of catnip to it can also help to lure your cat to it and keep them interested.
Step Two: Introduce Your Cat to the Alternative
You can bring your cat up to the scratching post and show them what it is and why they should be interested in it. If it has moving parts, they're more likely to be interested and try to play with it. Look for an alternative with different textures and surfaces.
Step Three: Reward Good Behavior
Reward your cat when they go to the scratching post by showering them with positive attention and treats. They'll start to associate using the scratching post with good things, and this can encourage them to use it more instead of your furniture.
Deterring Your Cat From Scratching
Keep Your Cat's Nails Trimmed
You should plan on trimming your cat's nails every 10 to 14 days to cut down on their scratching habits and keep them healthy. This can help get rid of the sheath that comes off every few months as well.
Catch Your Cat Scratching
You want to catch your cat in the act of scratching so you can start to let them know that it is unwanted behavior. You can spritz your cat with a water bottle, clap your hands, and pick them up and move them to their scratching post.
Cover the Sides of Furniture
Since cats like texture, adding a furniture cover can take the allure of scratching it away. The simplest way to accomplish this is by buying a furniture cover and covering everything. Your cat will lose interest once they can't feel the different textures.
Use Scents
For the most part, cats don't like the smell of citrus or menthol. You can mix a few drops of essential oil with eight-ounces of water and spritz it on your furniture. You may have to repeat this a few times until your cat understands that going by these areas will result in smelling something unpleasant.
Important Things to Look for in Your New Furniture Cover
Durability
Certain furniture covers are more durable than others, and you want to find one that will withstand cat scratches, wear and tear, and cleaning without ripping. Cloth furniture covers are very popular for their durability, but you can also get thicker vinyl covers as well. Also, look for double stitching, thicker fabric, and reinforced seams.
Ease of Cleaning
You'll eventually have to wash your furniture cover, and you want one that you can toss in the washing machine and dryer for a quick and easy clean. Vinyl covers are usually wiped down with a damp cloth, and they'll melt if you put them in the dryer.
Gripping Capability
Some furniture covers come with belts that attach to the furniture to hold it in place, and others have a gripping material all around the back of the cover. Take a look at the gripping material because this will dictate how many times you have to adjust and rearrange the cover.
Size
Your new furniture protector should fit both lengthwise and through the width of the piece of furniture that you want to cover. You want to measure your furniture and compare your measurements to the size of the cover (check the video below to learn how). Make sure that it's snug, but it's not so tight that you'll have trouble getting it on and off.
Waterproofing
Many furniture covers either have a waterproof coating on them, or they are completely waterproof. This can help to protect your furniture from stains due to spills, accidents, vomit, and more. If it's not 100-percent waterproof, make sure that it can at least withstand moisture for a few minutes.
Our Top Five Picks for the Best Couch Covers for Cats
1. Sofa Shield Original Patent Pending Reversible Sofa Slipcover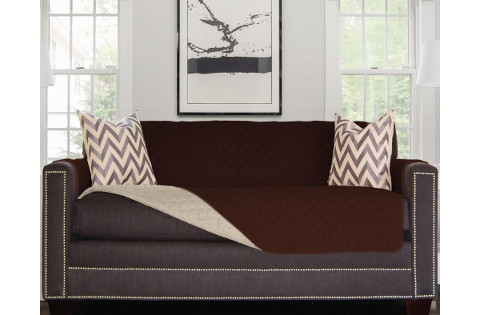 This slipcover by Sofa Shield comes in 13 different colors with reversible sides that feature both solid or patterned designs that allow you to mix and match in order to find a style that goes with your decor. It also comes in a variety of sizes that fits a chair, chair and a half, recliner, loveseat, futon, sofa, and an oversized sofa.
Each Sofa Shield features a thick strap that allows you to quickly and easily adjust the fit, secure it to your furniture, and release it to wash it. Each product comes with a full lifetime warranty against damage or failure that allows you to return it for an exchange or a full refund if something goes wrong.
These protective covers are designed to add a slightly plush layer to your furniture for maximum comfort and durability. They come with double stitching, secure connection points, and fabric that allows you to toss it into the washer and dryer when it gets dirty and needs to get cleaned.
Cat parents who bought this furniture cover liked that it covered a large portion of the furniture to protect it from scratches or hair accumulation. Cat parents did note that this product isn't waterproof, but it forms a barrier between your furniture and the cat.
Things We Liked
Secures to the furniture with a durable strap
Comes with a plush design reinforced with double stitching
13 different colors and patterns available
Things We Didn't Like
Cover isn't waterproof
May not withstand constant and repeated scratching without tearing
Strap attaches with two thin fabric loops
2. H.VERSAILTEX Sofa Covers Couch Slipcovers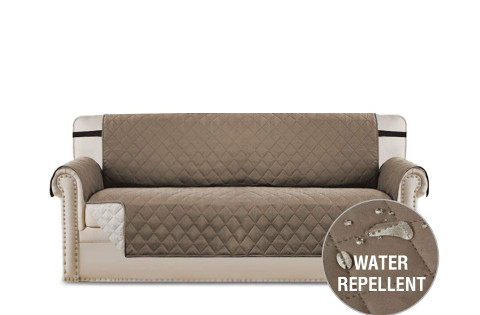 This sofa cover comes made out of a durable but plush faux suede microfiber that features a waterproof coating that protects your furniture from spills or cat messes. You can choose from six different color combinations with a reversible cream backing, and you also get the choice of seven sizes ranging from a standard chair, loveseat, and sofa up to oversized versions.
The durable box stitching on this cover helps to hold the cover in place once you put in on your furniture. Both sides of this furniture cover come with a protective finish that helps protect the cover's fabric from odors, hair, accidents, spills, germs, and much more.
This furniture protector features an elegant design, bright and vibrant coloring, lofty poly fill for added softness, and durable double stitching around the edges for added durability. You can toss it on the washing machine and wash it on cold, dry it on tumble dry, and put it back on your furniture.
Cat owners who bought this slipcover for their furniture liked that it came with a waterproof design that helped to protect their furniture from stains. Cat owners did say that it tends to slide around because there's no attachment strap.
Things We Liked
Several sizes fits both regular and overstuffed furniture
Comes with a protective finish
Available in several different bright colors
Things We Didn't Like
Doesn't have any attachment points
May not be as wide as listed
Colors can fade quickly
3. Gorilla Grip Original Slip Resistant Sofa Slipcover Protector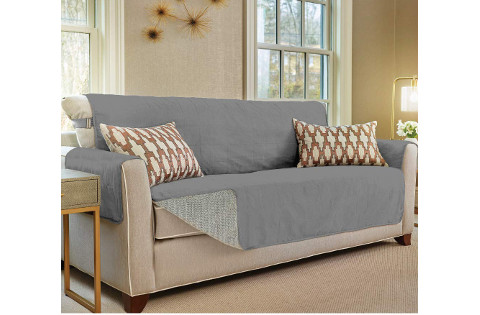 Gorilla Grip's slipcover come with a secure Gorilla Grip backing and an thick attachment strap to help ensure that your cover stays in place once you put it on your furniture and secure it. The micro-suede material is durable but soft to the touch and it adds a plush layer to your furniture.
You get the choice of nine different solid colors, a gripping back layer, and five different sizes ranging from a chair and recliner up to a loveseat and sofa. Along with the security strap running along the back, you'll also get a strap that slips under the front of the furniture, and seat anchors that hold the cover in place all over.
Each Gorilla Grip slipcover comes with a 10-year warranty against damage or defects that allows you to exchange it or return it for a refund with no questions asked. It's easy to clean, and all you have to do is toss it in the washing machine and dryer when it gets dirty.
Cat parents really liked that Gorilla Grip's slipcover covered the front and sides of the couch to protect it against scratches. Cat parents did say that this slipcover can leave a waxy residue on their furniture if it reacts to the materials.
Things We Liked
Comes with multiple anti-slip points
Has a patented Gorilla Grip backing to hold it in place
Available in several different sizes and colors
Things We Didn't Like
Can leave a waxy residue on certain fabrics or materials
Can melt in higher dryer heat
Straps can be bulky and stick out
4. LAMINET Thick Crystal Clear Heavy-Duty Water Resistant Sofa/Couch Cover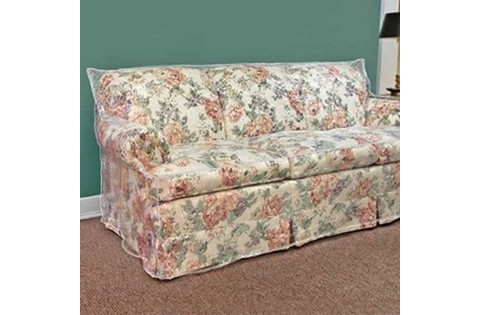 This clear slipcover from LAMINET comes made out of a heavy-duty plastic that helps to repel fluids, dirt, dust, pet hair, and claw marks. It's designed to slid over your furniture from the top down, and this can help to ensure that it stays in place once you have it on your furniture for a secure fit.
You can choose from a complete dining chair cover, dining chair cushion cover, sofa, large sofa, recliner, and loveseat covers. The vinyl is thick enough that your cat can try to claw it without tearing straight through and ruining your furniture's fabric.
The seamed edges on this protective furniture cover add to the durability and the entire cover seals for a waterproof barrier that protects your furniture against spills and accidents. This cover is also very easy to clean because it lets you simply wipe it clean with a damp cloth and air dry.
People who have cats who bought this product liked that it came with seamed edges that didn't allow their cat's claws to snag on it if they attempted to scratch it. They weren't happy that it was a noisier cover each time they sat on it or moved around on it.
Things We Liked
Seals to form a waterproof barrier
Wipe it off with a damp cloth to clean
Slips down over the top of the furniture for a secure fit
Things We Didn't Like
Tended to make a lot of noise
Only available for a select number of furniture sizes
Can rip with repeated scratches
5. Kitty Cat Protector Plastic Couch Cover For Pets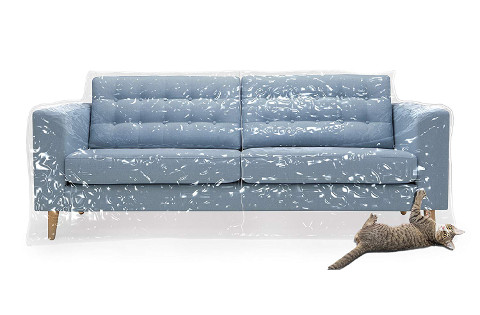 The Kitty Cat Protector slipcover comes made out of a slightly thicker plastic material that encourages your cat's claws to slide off when they try to scratch it. The seams come designed to be resistant to tears or scratching, and the plastic is thicker for added durability.
The slipcover slides over the top of your couch for a secure and lasting fit that won't slide around when you sit on it or move around. The plastic is also completely waterproof, and this seals your furniture's fabric to prevent accidents or spills from soaking into the furniture and smelling.
You can clean this cover by taking a cloth with warm water and simply wiping it to remove any fluid or hair buildup. The cover supposedly fits any size couch, and it comes backed by a 100-percent satisfaction guarantee that allows you to return it for a refund if you don't like it.
Cat parents who bought this plastic slipcover liked that the seams were designed to allow their cat's claws to slip off instead of snag and tear it. Cat parents didn't like that this slipcover tended to separate with heavy usage.
Things We Liked
Made with a thicker plastic for added durability
Seams are reinforced
Slides over your furniture for a secure fit
Things We Didn't Like
Tends to separate with heavy use
Can get hot when you sit on it
Does not reach the floor on larger furniture
What's the Best Couch Cover for Cats?
Our pick for the best couch cover for cats is Sofa Shield Original Patent Pending Reversible Sofa Slipcover because it comes in several stylish colors and patterns with a reversible design. We chose it because it had a thick attachment strap that helped to anchor the cover in place once you had it where you wanted it.
The lifetime warranty was another point in this slipcover's favor because it made it easy to exchange or return it if it didn't fix what we needed. Finally, we liked that it had a slightly plush feel that was reinforced with double stitching.