Top 3 Cat Trees That Look Like Real Trees

By Debbie Short     Last Updated January 18, 2022

KittyWire may collect commissions on purchases made from the links on this page.
If a perfect world, your cat would play and exercise on any cat tree you installed in your home, but this may not be the case for some pickier cats who prefer live trees to cat trees. Since it's not practical to bring a live tree into your home for your cat to enjoy, you can pick out a cat tree that looks like a tree instead.
They usually have a darker coloring to match the look of bark, have texture, and they all have some type of leaves or vines on them to trick your cat into thinking they're hiding in a real tree. We've picked out our top three for you, but we also want to give you buying points to keep in mind before we get to the reviews.
Our Top 3 Picks for the Best Real Tree Looking Cat Tree
What is a Cat Tower That Looks Like a Tree Anyway?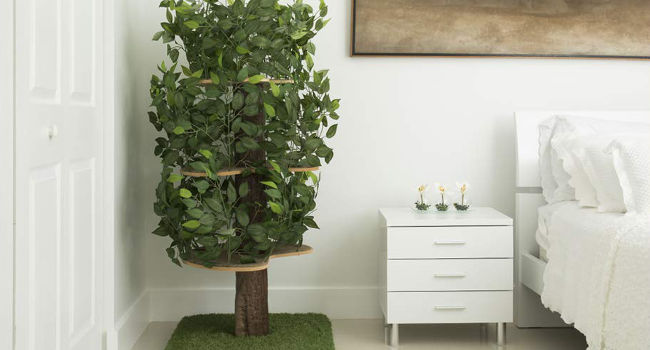 A cat tower that looks like a tree usually comes in two forms including a traditional tower with vines and leaves intertwined around the pillars and around the platforms themselves. The second type is one with tiered platforms with synthetic branches and leaves attached to the platforms that make the tower mimic the look of a full tree.
Many cats like to hide in their cat towers, and they feel secure when they're off the ground. This type of cat tower provides both of these things simultaneously, and your cat can peer through the branches to see the people moving around them.
Buying Criteria to Consider for Your Cat Tree
There are a few things that you want to look for when you start shopping for your new cat tree. These things help to ensure that you'll get a safe and fun new hideout for your cat to enjoy, and the criteria include:
Ease of Cleaning
You'll have to clean your cat tree sooner or later, and you want to make sure that your fabric will withstand the use of light soap and warm water. You can vacuum it or brush it first to get most of the cat hair off before you spot clean it with warm water and soap to remove any stuck-on debris or stains.
Nontoxic Parts
Some cats like to chew on leaves or greenery, and this means that they could end up chewing on your cat tree's leaves if they're curious about them. Make sure that your cat tree comes with nontoxic materials until you can train your cat or convince them that they don't want to chew on it.
Platforms
Your cat tree's platforms should be wide and broad enough to support your cat's weight and size easily without them hanging off it. It's also a good idea to take a look at the attachment points for your platforms to ensure that they're durable and secure because they could move around if they're not tight enough.
Size
If you have limited space, you want to measure to make sure that you don't get a cat tree that is too large or bulky and sticks out. Make sure you measure both the height and width of the cat tree and take into consideration how far the platforms stick out before you buy anything.
Stable
Look for a cat tower that has a wide and stable base, so your cat doesn't make it shake, move, fall, or wobble when they jump on it or move around on it. Another point to consider is whether or not it fits securely into a corner or area that'll support it if it should rock back and forth.
Type
You can get either a platform that has synthetic branches and leaves built into the platforms that reach up like real trees, or you can get one with vines that twist around with leaves. Each type works well, and the one you choose will depend on your tastes and your cat's preferences. Some cats like the more real tree look, and some cats will shred them.
Related: Best Floor to Ceiling Cat Trees
Our Top 3 Picks for the Best Cat Tree That Looks Like a Tree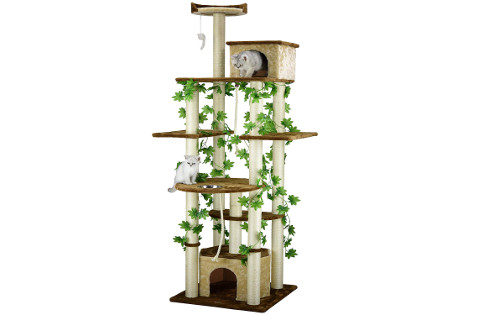 This cat tree comes in five different styles ranging from simple to complex, and each one features multiple tiers with platforms and small boxes for your cat to slip into and hide. You'll also get a fun tree decor that mimics leaves combined with the brown material to give the appearance of a tree.
The plush fabric covering on this cat tree gives your cats plenty of places to lounge and play on a comfortable surface, and this material covers the platforms, boxes, and the posts of this play area. There are several interactive areas for your cat to play on and enjoy including a rope toy, cubbies, platforms, and more.
Your cat will be able to use the built-in bowl for food or water, and this means that they don't have to come down every time they want to drink or eat something. It has a sturdy design with large platforms that are great for cats of all sizes (yes, even large cats).
Cat parents who bought this cat tree for their pets liked that it came with a very stable and sturdy build that stayed in place once they put it together. They did mention that the cat tree's leaves were slightly more fragile and prone to falling off.
Things We Liked
Has several platforms at varying heights
Comes with a food bowl built into the design
Features a very sturdy design
Things We Didn't Like
Leaves tend to fall off
Can be time-consuming to put together
Covering may not withstand wear and tear
2. On2Pets Cat Condo Furniture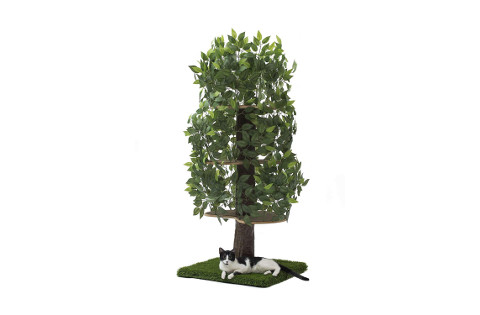 You can customize your order with this cat tree with a square or round base, and it also comes in small, medium, and large with a large summer edition. This cat tree comfortably holds cats up to 32 pounds, and it features three hidden levels for your cat to sit on and watch the room.
The solid square base provides stability for the cat tree, and there is a thick center pole that mimics the look of tree bark. This cat tree stands five feet tall from the bottom of the base to the top of the tree, and each tier swivels and lets you quickly and easily adjust it as you see fit.
The assembly is fast in easy at just under 10 minutes with no additional tools required, and you can choose to only add one or two tiers instead of all three without the cat tree looking incomplete or too short for your cat to enjoy.
People who bought this cat tree for their pet liked that it came with a very easy assembly process with large pieces and no additional tools needed. They did say that the technical specifications of the tree need fixing because it's hard to tell if all of the parts are completely attached or not.
Things We Liked
Came with three bright tiers
Middle of the cat tree looks like bark
Has a large base for more stability
Things We Didn't Like
Technical specifications may need improvement
Bottom of the tiers tends to shred
May not be tall enough for some cats
3. CozyCatFurniture Extra Large Cat Tower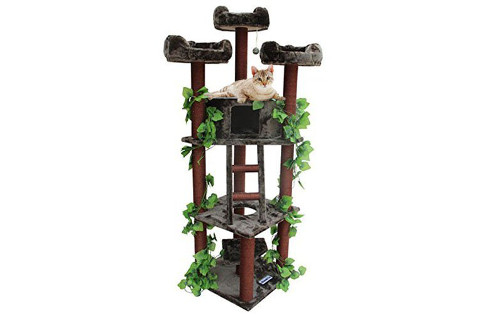 Your cat will be able to play on seven different towers with this cat tree, and they'll get stairs, houses, and several platforms intertwined with a lot of leaves to a camouflaged feel. The entire tower has a plush feel to it with a lot of deep brown and light brown fabric that mimics tree bark.
There are 10 different scratching posts all over the tree, starting with four on the base and going up between each level. The wide base supports the entire cat tower, and it provides excellent stability to keep the tower from tipping over as your cat plays on it.
You get all of the instructions and tools you need to complete this cat tower, and it has a very user-friendly design that makes it quick and easy to put together. Finally, there are hanging toys to catch your cat's attention and keep them coming back to their new tower again and again.
Cat parents who bought this cat tree liked that it had a very dark and plush covering that acted as a layer of padding for their cats as they played on it. Cat parents did say that this stuck out from the wall more, and this makes it more challenging to place in smaller areas.
Things We Liked
Has slightly larger platforms
Covered in a plush brown fabric
Comes with a few interactive areas
Things We Didn't Like
Sticks out further from the wall
Some platforms may be too skinny
Not large enough for bigger cats
What's the Best Cat Tree That Looks Like a Tree?
Our pick for the best cat tower that looks like a tree is the Go Pet Club Cat Trees because it comes with five different styles that allows you to quickly and easily tailor your cat tree to suit your needs. It comes with a plush dark fabric covering almost every inch of the cat tree that gives it a luxurious look and feel.
We also liked that it was very stable and sturdy with a broad base that ensured the cat tree didn't wobble or fall when your cat jumped on it or moved around. Finally, this cat tree had slightly larger platforms that worked great for both big and small cats.