Top 5 Soft Dry Cat Foods for Senior Cats or Cats With Dental Issues

By Debbie Short     Last Updated March 7, 2022

KittyWire may collect commissions on purchases made from the links on this page.
You may love your senior cat, but feeding them can be a difficult task when they start to have trouble with traditional kibble and can't eat it like they used to. You can try a few soft dry cat food choices from different brands until you find one that your cat likes, or you can look at our mini reviews.
We understand how difficult it can be to find the best food for your cat that they like and that's easy to eat, and this is where our reviews come on. However, we're also going to give you a short buying guide before the reviews so you understand why you should make the switch to a softer dry cat food.
Our Top Picks for the Best Soft Dry Cat Food
What is Soft Dry Food for Cats?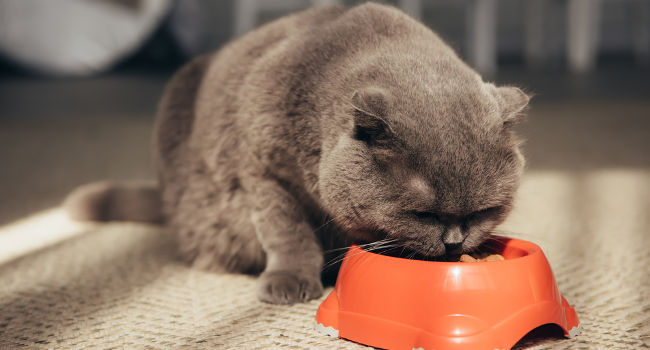 A soft dry food for your cat is exactly what it sounds like. It's a dry kibble food with softer bits or centers that aren't as difficult for your cat to eat. They're very popular with people who have senior cats or cats that some teeth missing and can't chew traditional hard kibble pieces.
Soft dry kibble is starting to get more popular with cat parents, and there are dozens of brands and types to choose from. They usually have slightly more moisture content than traditional kibble, but they're not soupy like wet food that can have up to 85-percent moisture content.
What's the Difference Between Wet and Dry Cat Food?
Both wet and dry cat food have enough nutrients to adequately meet your cat's dietary requirements, but some cats seem to prefer wet food over dry food. There are two main differences between the two, and soft dry food falls somewhere in the middle of both. They include:
Water Content - Dry cat food contains between 6 to 10-percent water content, and wet cat food can contain between 70 to 85-percent water content. Soft dry food typically has slightly more water content than dry food, but it doesn't have nearly as much as you'd find in traditional wet food.
Storage - Once you open a can or pouch of wet cat food, you have to store it in the refrigerator with a cover to keep it fresh, and dry food requires an airtight container or sealed bag. Soft dry food also needs an airtight container to prevent it from getting too hard for your cat to eat.
Why You Want to Feed Your Cat Soft Dry Cat Foods
Years ago, cat food manufacturers used to sell a semi-moist cat food, but the production has gone way down in recent years because a lot of semi-moist cat foods have a lot of artificial colors and flavoring that may not work well with your cat's digestive tract. This can make it difficult for cat parents to find a food that is soft and flavorful enough for their cat without feeding them wet food.
Soft dry foods are an excellent balance of both wet and dry cat food because they're not so hard that your cat has trouble eating it, but they're not wet enough that you're feeding your cat mush that doesn't help their teeth. Instead, you get slightly harder kibble with soft centers or meaty bits and help to soften up the kibble content of the food.
What to Consider Before Buying Soft Dry Cat Foods
There are several important points to keep in mind when you're shopping for your cat's new soft dry food. This will help to ensure that you find a food that has complete and balanced nutrition for your senior cat.
Brand Reputation
As with anything, your cat food's reputation is very important because you don't want to feed your cat food from a company that has a reputation for a lot of filler or lower quality ingredients. Take a look online and compare brand reviews. You may pay more for your cat's food, but you'll get higher quality ingredients that offer more support to all of your cat's systems.
Carbohydrates
As your cat ages, they can start to gain weight if their activity levels go down, but they're still getting a higher amount of carbohydrates in their food. You want to avoid foods that have carbohydrates listed in the first few ingredients, and you also want to stay away from plant-based proteins because they offer little nutrition for your cat.
Ingredients
You want quality ingredients in your cat's food, and this requires that you take a look at the ingredient label to see all of the supporting ingredients in the formula. Avoid meat meals and animal by-products while looking for a food that contains whole grains, animal protein, and fruit or vegetable accents.
Probiotics
Your cat can start to have more problems with their digestive systems as they age, and having food with live probiotics can help to keep their system regular. They can help to rebalance your cat's bacteria levels in their stomachs, and they can also help to keep your cat from experiencing digestive upset, diarrhea, constipation, or vomiting.
Protein
The protein content in your cat's food is extremely important, and it should be in the first few ingredients on the food label if it's not the first ingredient. Look for quality protein sources like lamb, salmon, beef, chicken, or more novelty meats like bison or venison. Ensure that the food has a balanced protein content.
Shelf Life
Soft dry food may not keep as long as pure dry cat food, but it typically lasts much longer than wet food once you open it. You want to make sure that your cat can eat the food you buy them before it goes bad, and giving it to them before the expiration date is also a way to ensure that it stays soft enough for them to easily eat.
Size
Older cats are at a higher risk for having missing or decayed teeth, and this can name it difficult for them to eat the food if it contains larger kibble or meaty pieces. Double check the size to ensure you're getting a smaller kibble. However, make sure that this smaller size doesn't mean that the food is harder.
You May Also Like: Top 5 High Calorie Cat Foods to Gain Weight
Our Top Five Soft Dry Cat Food Picks
1. Blue Buffalo Wilderness Adult Grain Free Dry Cat Food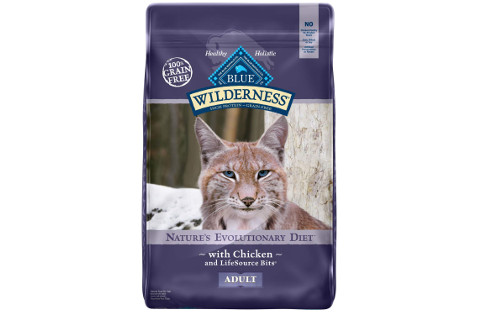 This cat food comes formulated with slightly softer LifeSource Bits that have a high level of antioxidants, vitamins, and minerals for healthy immune and joint support. It comes in five sizes and two different protein sources that lets you purchase a smaller bag to see if your cat likes it.
This food comes with quality and natural protein listed as the first ingredient from trusted and verified sources. It also has a high protein content compared to our other choices. The blend of Omega three and six fatty acids ensure that your cat has a shiny and soft coat, healthy skin, and a balanced digestive system.
Your senior cat will enjoy a natural food made with the highest quality products that don't contain any wheat, soy, corn, poultry, or by-product meals. This food adequately supports your cat's muscle growth and maintenance, eye health, digestive health, heart health, and a healthy weight.
Senior cat parents who bought Blue Buffalo's food were happy that it came with LifeSource Bits that were slightly softer and easier for their cat to eat. Senior cat parents did notice that this food tends to get hard quickly once they open it.
Things We Liked
Contains softer LifeSource Bits
Has real protein as the first ingredient
Contains a high level of antioxidants to support immune and joint health
Things We Didn't Like
Can get hard quickly after you open the bag
May cause digestive upset in more sensitive cats
Might come with a slightly stronger smell
2. Purina ONE Tender Selects Blend Adult Cat Food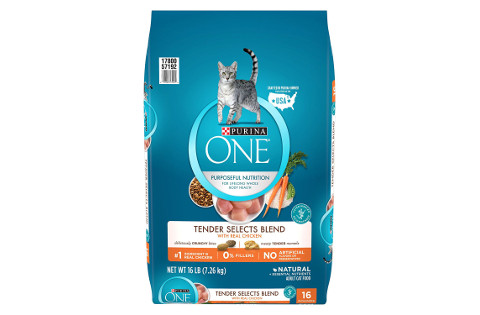 Purina's Tender Selects Blend comes with an exclusive mix of crunchy bits and tender, meaty strips that are easier for senior cats to eat. You can pick from a chicken formula or a salmon formula, and the protein source is the first ingredient on the label.
Your cat will get a formula that adequately supports a healthy coat, flake-free and moisturized skin, a strong immune system, strong muscles, and a healthy heart. It features an antioxidant-rich blend of nutrients, vitamins, and minerals that help to nourish your cat's joints along with all of their systems.
Along with the real salmon or real chicken as the main ingredient, this food comes with a blend of fruit and vegetable accents and wholesome grains for a balanced and healthy diet. There are also no artificial preservatives or flavoring, and this makes this food easier for your cat to digest.
Cat parents who bought this senior cat food liked that it came with a lot of meaty morsels in each bag that were soft. Cat parents did say that this food recently changed their meat sources to a blend, and this could put some cats off.
Things We Liked
Has meaty morsels in each bag
Comes in two different flavors
Has fruit, vegetable, and wholesome grain accents
Things We Didn't Like
Recently changed to a blend of meat
May be too bland for some cats
Can cause weight gain
3. Meow Mix Tender Centers Dry Cat Food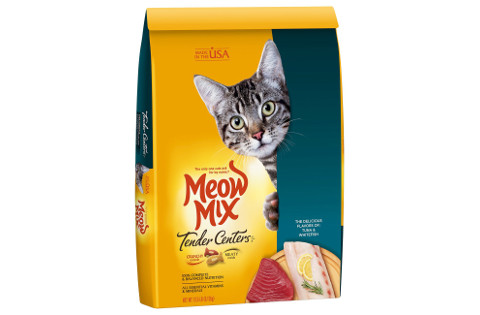 Meow Mix's dry cat food for seniors comes in four different flavors including tuna and chicken, salmon and chicken, salmon and turkey, and tuna and whitefish. It has a slightly crunchy outside paired with a tender and meaty inside that is excellent for cats that can't handle solid kibble.
Your cat will enjoy the contrast between the two textures in this food, and they get key essential nutrients each time they eat it that helps to keep them healthy. You can get the original formula, or Meow Mix recently introduced a new Based Bites formula that contains more flavoring and is slightly softer.
This food comes with a variety of vitamins and minerals that help to support your cat's digestive health, and it also helps to support their skin, coat, joints, immune health, and heart health. The larger size ensures that your cat will have their favorite food on hand when they want it, and it's relatively inexpensive.
People who bought Meow Mix's formula for their senior cats like that it came with a slightly crunchy outer layer wrapped around a soft and tender layer. They did note that this food is slightly more crumbly than other types of cat food.
Things We Liked
Has two textures in each kibble piece
Comes in a few different flavors
Supports heart health and immune health
Things We Didn't Like
Slightly more crumbly
Bag may not keep it as fresh
May not have enough protein
4. Hill's Science Diet Senior Indoor Cat Food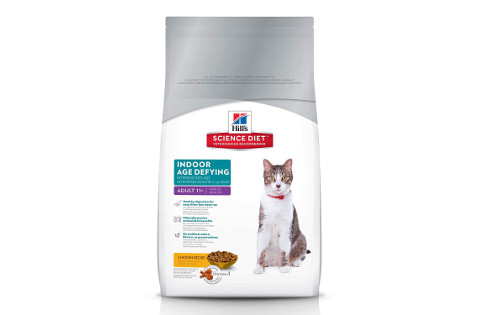 This senior cat food comes in five different formulas, two different recipes, and eight different sizes. It's formulated specially for older cats to help support their kidney function, heart health, eyes, and their joints.
Your cat will get an exclusive antioxidant blend that contains vitamin E to help ensure that their immune system stays active and strong as they age. There are no artificial colors, flavors, or preservatives in any formula to make it a healthier option for your cat that is easier on their digestive systems.
The triangular pieces of kibble are formulated to be slightly softer and ideally shaped for your cat to pick up and eat every time they have a meal. The high-quality ingredients are easier for your cat to digest when they eat it, and this helps to ensure that they don't have constipation problems.
People who have senior cats who bought this food liked that it came in triangular pieces that were easy for their cats to pick up and eat. They did notice that this senior dry cat food can cause digestive upset in some cats who are more sensitive.
Things We Liked
Has triangular pieces that are ideally shaped
Supports your cat's joints, heart, and immune health
Available in different recipes and formulas
Things We Didn't Like
Recent kibble size changes
May cause digestive upset in more sensitive cats
Might have a greasy residue
5. Purina Pro Plan Savor Adult Dry Cat Food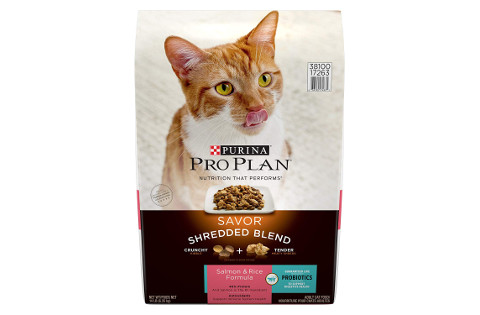 Purina's Savor senior cat food comes in four different flavor combination, and this includes a dry and wet food bundle so you can mix them together. There are seven different sizes that allows you to try it to see if your cat likes it before buying a larger bag.
This food comes blended with live probiotics included, and these probiotics help to support your cat's digestive system each time they eat it. Real protein is the first ingredient on the label, and it has support from a variety of accent flavors from fruits, grains, and vegetables.
Your cat will get a blend of smaller kibble pieces that are easy for them to eat and soft, shredded meat pieces in every serving. It has 40-percent protein in each bag to help support your senior cat's healthy weight and overall health well into their older years.
Cat parents who bought this senior food from Purina were happy that it came with softer meaty shredded pieces blended in with the kibble. Cat parents did say that this food may not have enough fatty acids to give their cat's coat the support it needs to be healthy and soft.
Things We Liked
Has a mixture of kibble and meaty bits
Comes in a few different flavor options
Contains live probiotics for digestive health
Things We Didn't Like
May not have enough fatty acid content
Higher protein content could cause weight gain
May be too bland for picky eaters
What's the Best Soft Dry Cat Food?
Our pick for the best dry and soft cat food is Blue Buffalo Wilderness Adult Dry Cat Food because it contains softer LifeSource bits that come packed full of antioxidants, vitamins, and nutrients that help to support your cat's immune health. We liked that you got the choice of two different protein sources and several different sizes when you ordered it.
The food had the protein source as the first ingredient on the bag, and it came from verified and trusted sources. Finally, this food also contained a higher level of fatty acids that supported the cat's skin and coat health.