Best Remote Control Cat Toys for 2022: Hexbug, Mouse, and More

By Debbie Short     Last Updated January 18, 2022

KittyWire may collect commissions on purchases made from the links on this page.
Cats are extremely curious creatures that love entertainment and exploration as apart of their every day lives. Cat toys are specifically designed to trigger these emotions, so that cats can enjoy happy and healthy lives when living at home.
Remote control cat toys are typically designed to entertain cats and prevent boredom. There are several different types of remote control cat toys, many of which focus on different design elements.
Our Top Picks for the Best Remote Control Cat Toys
What Should You Consider When Selecting a Remote Control Cat Toy?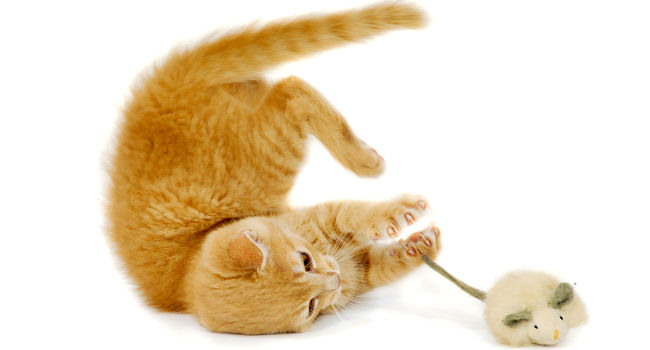 There are several design elements that you might want to look for when searching for a remote control cat toy. The level of automation might be important for you, but there are also similar cat toys that can be manually controlled.
Safety is also an extremely important aspect to consider, particularly because you would not want to place your cat into any sort of danger when playing with a toy. The newer remote control cat toys also have enhanced sensors that focus on detecting your cats actions, mainly to prevent potential issues with the toy.
You might also want to consider durability, customer reviews, and overall value. All three of these should be balanced when you are preparing to make a purchase. Finding a consistent balance between these aspects can help you to find the very best remote control cat toys that are for sale on the market.
How Expensive Are Remote Control Cat Toys?
Remote control cat toys can range from as low as a few dollars, all the way up to several hundreds of dollars, depending on the level of quality, automation, and number of features that are integrated into the device. There are several tiers of sophistication that goes into the creation of these remote control toys, and that certainly has a major influence on the value as well.
The five choices that will be mentioned in this review vary in price significantly. This is ideal for customers that might want to target a particular price range, rather than dedicating themselves to one specific price.
Are Remote Control Cat Toys Safe for Your Cat?
All of the products mentioned within this post are certified to be safe for your cat to play with. There are no known safety hazards, particularly because several precautions have been taken to ensure these remote control toys are as safe as possible for your cat to interact with.
Safety is a top concern for all of these toy manufacturers. That is why only the very best product choices will be reviewed in this buyer's guide.
Remote Control Toy vs. Traditional Toy
Many of the traditional cat toys do not suffice when it comes to trying to entertain a cat for long periods of time. Some cats are not entertained at all when playing with a traditional stuffed animal toy. The main advantage is that the remote control toys are more automated and sophisticated than traditional toys, allowing for more entertainment and features for your cat to enjoy.
Many of these automated cat toys are ideal for both indoors and outdoors, which is another major benefit when compared to some of the traditional cat toys.
Top Five Remote Control Cat Toy Picks
1. Petronics Mousr Interactive Robotic Cat Toy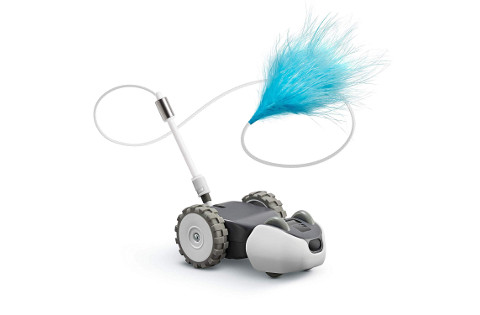 This is one of the highest end premium products currently available on the market. It is significantly higher in price than all of the other picks, mainly due to its sophisticated design elements and high quality features.
In 2018, it was dubbed the best new cat product because of its impressive design and innovative style. There are three integrated game strategies that are automatically triggered as your cat interacts with this toy. It has sensors that are capable of detecting trends or personality traits from your cat, and has the adaptability to change its strategy based on those tendencies.
The device can be synced with smartphones so that you can control the device through an iphone. There is also a special function that is designed to free the mouse if it gets stuck at any point.
Another popular feature that often gets mentioned in the customer reviews is the high quality gearbox. It is extremely durable and capable of withstanding heavy carnage from your cat. This device is designed to be used indoors and is ideal for hardwood floors, carpets, and tile surfaces.
Even though it is significantly higher in price, it still might be one of the best remote control cat toys that you could purchase for your household.
Things We Liked
Award Winning Cat Toy of 2018
High Quality Sensor Technology
Syncs with Smartphones for Remote Control
Things We Didn't Like
Expensive
Designed for Indoors Only
Limited Wireless Range
2. HEXBUG Deluxe Nano Cat Toy Pack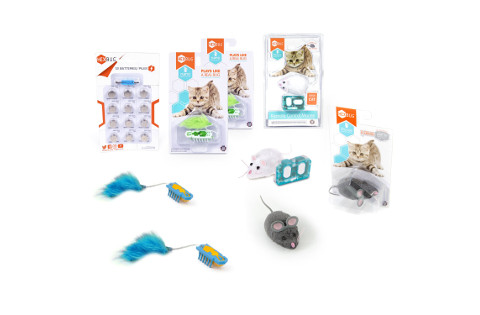 The HEXBUG Deluxe Nano Cat Toy Pack features a collection of high quality cat toys that your cat will enjoy. There are several robotic and remote control cat toys that ship within this bundle, including mice toys that ship in several assorted colors and design schemes.
Batteries are required to power the devices, although they are included in the packaging. The customer feedback is extremely positive for this toy pack. Some of the reviews talk about the incredible quality and value that is provided with this particular product.
One of the major advantages for customers with this product in particular, is the fact that there are several different types of toys within this bundle. There are robotic mice toys, remote control toys, and several unique items that can entertain cats for significant amounts of time.
Things We Liked
Outstanding Customer Feedback
Several Variations of Toys
Affordable Price Range
Things We Didn't Like
Limited Control Options
No Customer Warranty
3. Ito Rocky Remote Control Mouse Toy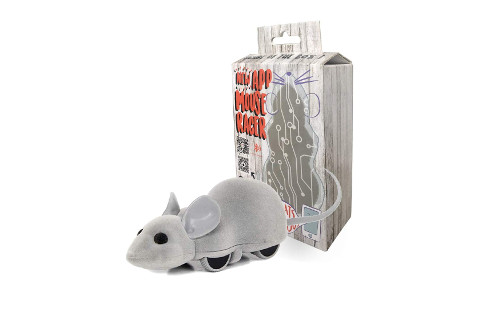 The third cat toy on this review is going to be the Ito Rocky Remote Control Mouse Toy. This particular device utilizes blue-tooth technology to ensure that users are capable of pairing their smartphones to control the toy.
This toy is designed to be used indoors on surfaces like tiles or hardwood floors. A high quality control system makes it convenient and easy to use all day long. There are endless opportunities with this toy to entertain and exercise your cat for long periods of time.
Perhaps the most impressive attribute regarding this toy is the well balanced value in comparison to the quality. It is relatively affordable and has some top-tier features that other remote control toys seem to lack in their design. Several of the customer reviews are positive and talk about the long lasting entertainment value that comes with the Ito Rocky Remote Control Mouse Toy.
Things We Liked
Smartphone Control (Android and iPhone)
Easy to Setup and Use
High Quality Control System
Things We Didn't Like
Designed for Indoor Use Only
Poor Bluetooth Signal
4. AOLIKES Rotating Mouse Tail with Remote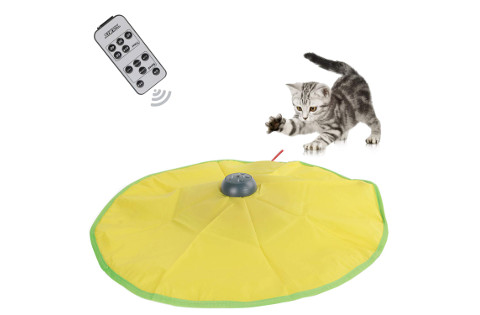 There are several unique design elements that are clearly noticeable on the AOLIKES Rotating Mouse Tail with Remote. One of those features is the frightened mice tail mechanism that simulates the motions of a mouse. One of the most important benefits from this type of remote control toy is the fact that it can help your cat exercise and lose weight. This toy might be particularly ideal for cats that are slightly overweight.
The fourth generation of this toy has been developed with new features to ensure the highest level of quality is achieved. Some of the new features include functional timers, new buttons, and motorized tail wand that spins around at four different speeds. There are slow, medium, fast, and random speed settings that you can setup with the remote control.
This toy is operated with batteries and can function for multiple hours at a time with the brand new timer features. As an added bonus for all customers, a 60-day money back refund policy is in effect for all purchases of this cat toy. There is also a one year replacement warranty.
Things We Liked
Ideal for Exercise Purposes for Cats
Affordable Price Range
Timer Feature Included
Things We Didn't Like
Limited Customer Feedback
Requires Batteries
Short Term Durability
5. Petlinks Cheese Chaser Electronic Motion Cat Toy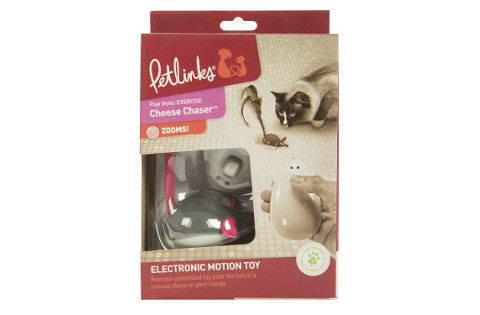 The one thing that stands out with this Petlinks Cheese Chaser remote control cat toy is the affordability and overall value. It is extremely cheap and is ideal for cat owners who find themselves on a tight budget.
A simple controller is included so that anyone can participate and get in on the action. The electronic toy is constructed with recycled plastic and includes a noticeable feather that triggers a cats senses and stimulates their emotions.
Cat owners should be comfortable knowing that this electronic toy is certified to be safe and hazard-free. A 100% customer satisfaction guarantee is promised from the manufacturer.
The main benefit from a toy like this is the fact that it is fun, simple, and easy to use. Cats will immediately find enjoyment and entertainment when interacting with this type of cat toy. It is also extremely affordable when compared to some of the more sophisticated toys that are available on the market.
Things We Liked
Extremely Affordable Price Range
Simple and Easy to Use
No Safety Hazards
Things We Didn't Like
Limited Control Settings
Short Term Durability
Requires Batteries
What's the Best Remote Control Cat Toy?
Now that we have had an opportunity to take an in-depth look at each of these high quality cat toy products, it is quite clear that the Petronics Mousr Interactive Robotic Cat Toy is the clear front runner, even though it is significantly higher in price than the remaining products.
It has earned the impressive 2018 'Best New Cat Product' award from the American Pet Products Association because of its sophisticated and innovative design traits. The high price might be too expensive for your budget, but the customers that have purchased it, typically have nothing but good things to say about it.
With all of that being said, every single one of these cat toy products is extremely impressive and could potentially be the right choice for you and your cat!