Buying Guide to Find the Best Cat Nail Grinder with Top 5 Picks

By Debbie Short     Last Updated January 18, 2022

KittyWire may collect commissions on purchases made from the links on this page.
You'll have to trim your cat's nails sooner or later because you know how sharp they can be when they paw at you as you walk by. The best cat nail grinder can help the trimming process along because you end up with a nice rounded edge and fewer chances of hitting the quick.
Since there are many nail grinders available from different brands, finding the best one to suit your needs can be a time-consuming task. Our buying guide will clue you into the essential buying criteria for these grinders, and our top five picks will let you compare quality nail grinders side by side.
Our Top Picks for the Best Nail Grinder for Cats
What is a Cat Nail Grinder?
A cat nail grinder is an alternative tool to traditional nail clippers that help you safely and effectively trim your cat's nails down to a rounded edge. These smaller handheld devices have a rotating head that usually comes with some type of sandpaper that spins at a fast speed to safely shave layers off of your cat's nails.
You can also use your cat nail grinder to smooth out any rough edges, snags, splits, or cracks to make them less likely to catch on anything as your cat goes about their day. They're very popular with people who are afraid of using clippers on their cats and cutting too much of the nail away.
How to Trim Your Cat's Nails with a Nail Grinder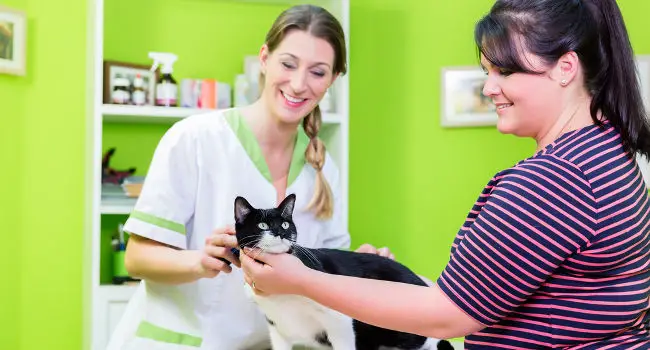 There are several steps you want to take when you first introduce your cat to the nail grinder. This can help to ensure that your cat understands that this isn't going to hurt them, and it can make the nail trimming sessions easier.
Step One: Introduce Your Cat Young
You want to introduce your cat to your nail grinders as young as you possibly can because this will give them plenty of time to get used to the idea of using them. Give your cat positive reinforcement when you manipulate their paws and put the grinder by their nails to make it easier.
Step Two: Determine How Much to Cut
White cat nails are easier to cut than black nails because you can see the small blood vessel that runs in the middle of your cat's nail. Determine how much of the nail you can safely cut without hitting this blood vessel because it'll bleed and hurt if you do pinch it or grind too much off.
Step Three: Introduce the Grinder
Show your cat the nail grinder and pet them while you do so in order for your cat to associate the grinder with positive things. Once they see and investigate the grinder, switch it on and let your cat get used to the noise and slight vibration the grinder gives off.
Step Four: Start Slow
Sit on the floor with your cat in your lap and see if they'll tolerate the nail grinder without a fuss. If they do, you're good to go. If not, you may need to recruit someone to help hold your cat still while you use it to trim their nails. Take frequent breaks if your cat signals they've had enough.
Step Five: Grind Your Cat's Nails
You can try to trim your cat's nails all in one session, but it might take more than one shorter session to complete all of them. Praise your cat throughout the process, pay close attention to how close the grinder is to the quick, and make sure you finish with smooth ends.
What to Look For When Buying a Nail Grinder for Cats
Since there are so many cat nail grinders available, there are things you want to use to compare the various grinders and find the one that suits your needs the best. We did the hard work for you and listed out the buying considerations below.
Detachable Cover - A detachable cover allows you to get right down to the bit and clean out all of the stray nail dust and small pieces that may chip off when you use it. Look for a grinder that has a cover that is easy to remove and put back on once you clean it.
Speed Settings - Your speed settings will dictate how long or how short it takes you to grind your cat's nails down to acceptable levels. Ideally, your grinder will have at least two-speed settings that let you decide which one works best for your cat's temperament.
Sound and Vibration - Different grinders have a different sound and vibration levels when they run, and this can directly determine how well your cat tolerates it. Look for a grinder that has a quieter operation and less vibration to make it easier on your cat.
Nail Guard - It's possible to cut or grind too deep and hit the quick when you use your grinder, and this is where a nail guard comes in. Your grinder should have at least three different sizes to accommodate different nail sizes and make sure you double check the depth of the guard.
Power Source - You can pick from a corded or cordless design, and they both work well when you use them. A cordless nail grinder gives you more freedom of movement, but a corded nail grinder ensures that you always have power when you need it. This is purely personal preference.
Ergonomic Design - The grinder you pick out should feature an ergonomic design that is easy to hold and grip when you cut your cat's nails. It should also be lightweight and portable to make taking it with you or storing it easy.
Warranty - Nail grinders are prone to breaking down and failing much faster than traditional clippers due to their various parts. Any nail grinder you buy should come with some form of warranty that protects you if your grinder should happen to break.
Top Five Cat Nail Grinder Picks
1. Dremel 7300-PT 4.8V Pet Nail Grinder
This nail grinder by Dremel comes with a high-density plastic body that is durable enough to easily support the grinder portion of the device. You can set one of two rotation speeds with this grinder, and this works to ensure that you don't have it going too fast when you get close to the quick.
It comes with a 60-grit sanding drum attached that makes this a safe and effective alternative to traditional nail clippers. It has a cordless design that gives you the freedom to move around as you move from paw to paw to make it fast and easy to trim all of your cat's nails.
The battery charges in just under three hours, and you can use it for multiple trimming sessions once you have it charged as high as it can go. Additionally, this nail grinder is comparable with an assortment of other grinder heads, and this means that you can switch to a more fine grit if need be.
Cat owners who purchased Dremel's nail grinder were happy that they could pick from faster or slower speeds to allow them to get close to the quick. Cat owners who purchased this grinder did say that it has a slightly bottom-heavy design that makes it more challenging to hold.
Things We Liked
Able to swap out grinder heads for different grit levels
Runs for hours on a single charge
Cordless design lets you maneuver it around
Things We Didn't Like
Can take a while to change the grinder head
Runs slightly louder than other grinders
Does not come with a nail guard
2. Hertzko Electric Pet Nail Grinder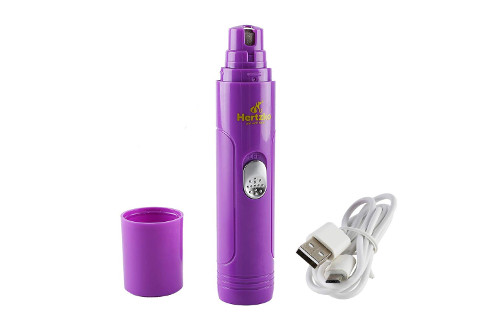 This sleek and portable cat nail grinder comes equipped with a durable Diamond bit that adds a layer of durability and ensures that this grinder lasts for repeated uses. You can set three different size ports that fit small, medium, and large cat nails and help to prevent you from hitting the quick.
The super mute motor comes specially designed to reduce vibration and noise when you use it to grind your cat's nails, and this is very helpful if you have shy or more skittish cats at home. You get a USB cord that lets you plug this nail grinder in and charge it on the go.
The slim and lightweight design makes this a great nail grinder to toss in your purse or bag and take with you when you take your cat out and about. You can also quickly and easily remove the cover over the bit to clean and maintain it to help ensure that it keeps working like new.
People who used this grinder on their cat's nails liked that it came with a nail guard with three different sizes that allowed them to find the best size for their cat's nails. However, they did also say a few times that this grinder tended to get warm with prolonged use.
Things We Liked
Has a lightweight and portable design
Comes with a Diamond bit installed
Has three openings for your cat's nail
Things We Didn't Like
Can heat up with prolonged use
Body is a thinner plastic material
Might not be powerful enough for thicker nails
3. URPOWER Rechargeable Pet Nail Grinder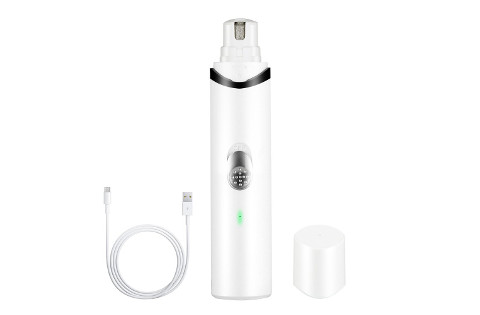 You'll get an indicator light that lets you know when your rechargeable battery is running out, and it comes with a USB cord that makes charging it fast and convenient. It can run continuously for three hours on a single charge, and this gives you more than enough time to trim your cat's nails with breaks in between.
This grinder comes with special mute technology that helps to reduce both vibration and noise while you slowly and gently shave off layers of your cat's nails to a rounded edge. You can set three different ports that fit different nail types and sizes as well.
You get a 90-day warranty when you purchase this product that allows you to exchange it for another one, and it also has a 30-day money-back guarantee if you're not totally satisfied. This grinder works best for small and medium cats because it comes with a smaller motor and less power.
Feline parents who purchased this device to trim their cat's nails were pleased that it had a bright indicator light that let them know when it was time to recharge the battery. Feline parents did mention that it runs slower, and this isn't ideal for longer nails.
Things We Liked
Has special mute technology built in
Has a 100% satisfaction guarantee
Runs for three full hours on a single charge
Things We Didn't Like
Might not be powerful enough for larger cats
Runs slower than other grinders
No shield to contain the nail dust
4. Oster Gentle Paws Less Stress Cat Nail Grinder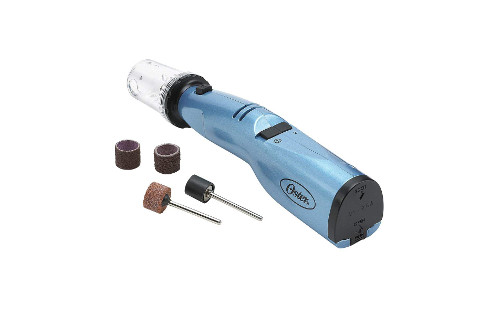 This cat nail grinder by Oster comes with a whisper-quiet operation that can help to reduce your cat's stress levels when you grind their nails down. You have a clear adjustable safety guard that not only ensures that you don't grind too much, but it also helps to catch the stray nail dust.
You get a dual-speed design that lets you move at a pace your cat is comfortable with, and it also works to ensure that you get neat edges that are close to the quick. You get two bits and two different grit sandpapers that helps you customize your settings to fit your cat's nail size and thickness.
It comes with a sleek ergonomic design that makes it very easy to grip this nail grinder for extended sessions, and the power button has an optimal placement right under your fingertips. The cordless design of this nail grinder ensures that you can maneuver around your cat's feet when you need to trim your cat's nails.
Feline parents who bought this particular nail grinder were impressed that it came with an adjustable clear guard that reduced the mess and ensured that they didn't grind the nail down too far. Feline parents were not impressed that this grinder seemed to stall out with thicker nails.
Things We Liked
Has a very sleek and ergonomic design
Has dual speeds
Comes with a clear nail guard to catch the nail dust
Things We Didn't Like
Does come with a slight learning curve
May stall out and stop working on thicker nails
Sandpaper bands tended to slide off of the drum
5. INVENHO Pet Nail Grinder
Invenho's nail grinder comes with a newly improved Diamond bit grinder to enhance the grinder's durability and performance abilities, and this helps to reduce the chances of chipping your cat's nails when you use it. The dual speed switch makes it easy to go from a faster to slower speed at the push of a button.
You can set whichever port fits your cat's nails best from three options, and you can use these ports and your speed settings to give your cat a quick and effective nail trim. The precision design makes grinding your cat's nails down to safe rounded edges a fast and painless process.
It has a quiet operation with a vibration reduction build that helps you cut more skittish cat's nails without scaring them even more. You get a rechargeable battery with a USB cord that makes charging it a convenient process, and it allows you to charge it on the go.
Cat people who purchased Invenho's nail grinder liked that it was very easy to remove the cover over the bit area to clean and maintain it between uses. Cat people didn't like that this grinder works best on rounding out your cat's nails instead of actively grinding them down.
Things We Liked
Has a rechargeable batter with a USB port
Comes with vibration reduction technology
Runs for hours on a single charge
Things We Didn't Like
May not work well on thicker nails
Battery can drain fast with extended use
Can take longer to grind down longer nails
What's the Best Cat Nail Grinder?
Our top pick for the best available cat nail grinder is the Dremel 7300-PT 4.8V Pet Nail Grooming Tool because it features two different speed settings that let you customize how fast or slow you trim your cat's nails. It has a lightweight and compact design that makes storing it or taking it with you an easy process.
The high-density plastic body added to the overall durability of the nail grinder, and you're able to quickly swap out the head for different grit paper for different nail types. Finally, we liked the cordless design because it makes it very easy to reach all of our cat's nails when we trimmed them down.