Best Cat Litter Mat to Prevent Litter Tracking Around the House

By Debbie Short     Last Updated January 18, 2022

KittyWire may collect commissions on purchases made from the links on this page.
No matter which type of cat litter you use, you'll eventually see little cat litter paw prints making their way around your home after your cat uses the litter box. Not only can this be an annoyance, but there can be health risks associated with it due to the bacteria in your cat's waste products.
The best cat litter mat can help to alleviate this problem by trapping the cat litter as soon as your cat steps out of their litter box and onto it. We're going to take a look at what you want to keep in mind when you shop for your cat litter mat, and we've also rounded up five excellent options and provided short reviews for each one.
Our Top Picks for the Best Cat Litter Mat
What is a Cat Litter Mat?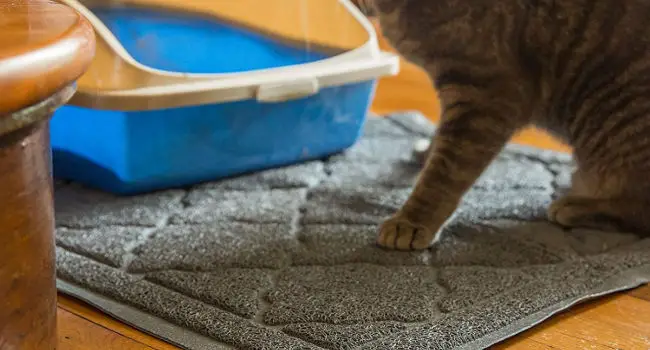 A cat litter mat is a nylon, rubber, or PVC-style mat that you place under your cat litter box like a rug that works to trap the litter by helping it fall off of your cat's feet when they walk on it. The litter either gets tangled in the fiber of your mat or the mat features holes that the litter falls through onto a collection area where you can empty it.
These litter mats help to prevent cat litter from tracking around your home each time your cat uses the litter box, and this makes it more sanitary overall. Additionally, it helps to reduce the amount of time you spend cleaning up stray cat litter because it keeps the majority of it in one convenient place.
Benefits of a Cat Litter Mat
There are several benefits that come with having a quality cat litter mat in your home. If you're on the fence about getting one, we suggest you take a look at the benefits and see if they change your mind. They include:
Hygienic - Your cat's litter box is a breeding ground for bacteria to thrive, and you don't want this bacteria to spread around your home. A mat traps the litter and reduces the tracking, and this can improve how hygienic your carpets or flooring are.
Less Cleaning - It can be extremely frustrating to have to vacuum once or multiple times a day in an effort to try and keep up with the cat litter. A mat will help reduce litter scattering, and this can help lower the number of times you have to sweep, wipe up, or vacuum in the area directly around it.
Comfort Level - If litter gets stuck in your cat's paws, it can make them uncomfortable when they walk around. Since a litter mat helps to remove any clinging litter, it can increase your cat's overall comfort levels.
Top 6 Things You Must Consider Before Buying a Cat Litter Mat
Not all cat litter mats are equal, and there are several important considerations to remember when you start to compare the various cat litter mats. If you do, it can help to ensure that you pick out the best mat for your situation and needs. They include:
Cat Friendliness
The mat should feel good on your cat's paws when they walk on it, and you also want to make sure that it doesn't contain any BPA. Popular materials for cat mats that are cat-friendly include things like EVA, microfiber, PVC, and silicone.
Durability
Your cat litter mat has to be strong enough to withstand routine wear and tear like your cat walking across it, but it should also be able to withstand your cat pawing at it. Look for a mat with reinforced stitching, durable edges, and a more durable material like rubber or nylon.
Easy to Clean
Since cat litter mats tend to be slightly larger and heavier, it's important that you find one that is easy to clean and maintain. It could have multiple openings if it traps the litter on a second layer, allow you to spray it down and let it air dry, and be easy to run the vacuum over.
Effectiveness
There are different styles of litter mats available, and some cat litter mats are much more effective than other choices. Consider your cat's bathroom habits and the type of litter you use and compare it to the different types of litter mats until you find one that matches up.
Size
Cat litter boxes come in different sizes to suit different cat needs, and cat litter mats also come in different shapes and sizes. Make sure that your litter mat is large enough to stick out from around your litter box, so your cat has room to walk on it when they finish going to the bathroom.
Waterproof
At the very least, your cat litter mat should have a water-resistant layer if it's not completely waterproof. Not only does this make cleaning your mat much easier and faster, but it also helps to prevent cat urine from soaking into the fabric and smelling if your cat has an accident.
Top Five Cat Litter Mat Picks
1. Easyology Premium Large Cat Litter Mat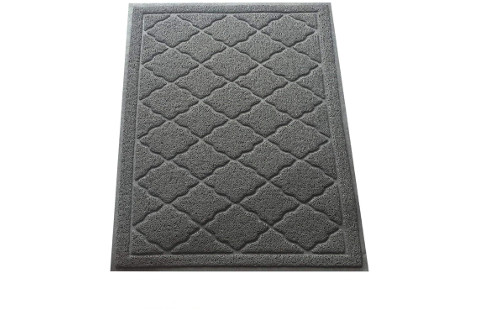 This large litter mat by Easyology comes with a unique woven fiber that helps to trap and lock litter in when your cat leaves the litter box and steps on it. It also features a softer texture that is comfortable for your cat to step on and walk across without a problem.
The PVC material that makes up this rug is very durable, resistant to wear or tear, and resistant to fraying along the edges with repeated use. It comes with a rubberized coating that helps to ensure that your litter mat sticks to the floor and stays in place when you put it down.
You'll be able to quickly and easily clean this litter mat with a vacuum, and it's also resistant to water so you can quickly wash it down and lay it out to dry. It comes in four different colors and a jumbo size that is large enough for two litter boxes to sit on with plenty of space.
Cat parents who bought this litter mat were happy that the slightly plush woven texture was comfortable for their cats to walk on while still being effective for catching the litter. Cat parents did mention that the larger size of this litter mat does make it slightly more challenging to pick up or move around.
Things We Liked
Comes with a plush and woven design
Rubberized coating sticks to the floor
Made out of a water-resistant material
Things We Didn't Like
Slightly awkward to maneuver
May be too thin for some vacuums to not suck up
Cat urine tends to saturate the material and smell
2. iPrimio Large Cat Litter Trapper Mat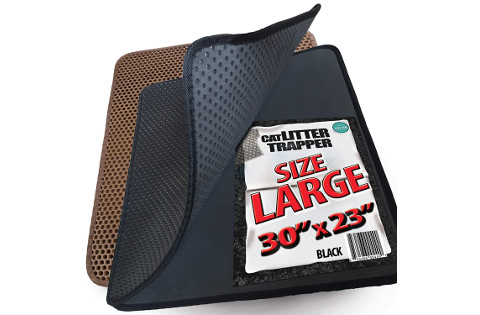 This multiple layer design features larger holes on the top mat that helps to trap litter and make it fall through onto the collection pad for a fast and easy cleanup. The secondary mat features a waterproof layer that that works to repel cat urine if your cat has an accident on it.
It comes in two color combinations, and the rubberized top layer has a very smooth design that helps to ensure that your cat stays comfortable when they walk across it. You can choose from a small or jumbo size, and this ensures that you'll be able to get a litter mat that fits your space.
You'll get an easy open edge that peels the top layer away from the collection mat, and you can simply dump the excess litter out and shake it off or spray it off to clean it. It also allows you to put a puppy pad between the layers to catch any excess fluids that may make their way to it.
People who bought this cat litter mat for their homes liked that it had an easy open side that allowed them to shake the cat litter back into the box. People who bought this mat did talk about how the holes tend to get clogged if any water and litter mix on the top of the mat.
Things We Liked
Comes with two layers to collect the litter
Has a waterproof coating
Comes with an easy open design
Things We Didn't Like
Holes can clog easily and be difficult to clean
Edges of the mat are fabric and absorb urine
Might not be able to grip to the floor well
3. Gorilla Grip Original Premium Durable Litter Mat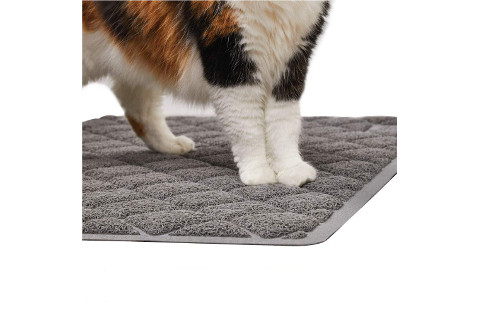 Gorilla Grip's cat litter mat comes in three different size options ranging from extra large to jumbo, and you also get the choice of eight different color combinations. The back of the mat features grips that help to anchor the mat to the floor and prevent it from moving.
You'll get slightly plush woven pockets combined with deeper grooves that help to capture the litter and pull it from your cat's feet when they walk on it. The generous size ensures that you'll be able to have plenty of room around your litter box to trap the stray litter and prevent it from spreading.
This phthalate-free cat litter mat is textured to catch the litter, but it also features a softer fabric that is gentle on your cat's paws. You can simply shake it off, vacuum it, or wash it with soapy water before you let it air dry to keep it clean and sanitized.
Cat parents who purchased this litter mat for their cat's litter boxes were happy that it came with deeper grooves to help trap and lock the litter into place. Cat parents didn't like that this litter mat's fibers can be difficult to clean the litter out of.
Things We Liked
Comes with a soft texture and design
Gorilla Grip backing holds the mat in place
Comes in several different sizes and colors
Things We Didn't Like
Can be difficult to clean litter off
Might have a strong smell when you first open it
Can get very heavy if it gets any water on it
4. Smiling Paws Pets Cat Litter Trapper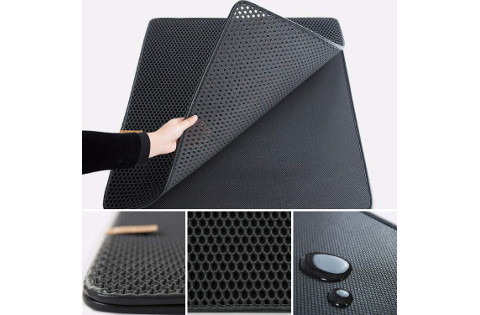 This sleek black litter mat features dual layers that help to catch any stray litter and store it away from where your cat walks. The honeycomb design allows the litter to fall through onto a secondary mat when it comes off of your cat's feet
The edge of this mat is a durable leather material that works to repel water if your cat has an accident on it, and it also helps to contain the litter by rising up in a slight lip. The waterproof layer and material work to stop any fluid from leaking through onto your flooring.
You'll get a three-way opening that lets you flip the top mat to the side to clean out the excess litter and wash the mat down between uses, and you can use soapy water to clean it before you wipe it dry. The bottom of the mat works to grip the floor to hold it in place once you position it where you want it.
People who had cats and purchased this mat for the litter box area were happy that it had a leather edge with a slight lip to help contain the litter. People who bought this mat were not happy that the mat tended to clog.
Things We Liked
Very easy to clean and maintain
Rubber design is waterproof
Honeycomb design locks litter away to prevent tracking
Things We Didn't Like
Holes may clog if it gets wet
Thicker design can present a tripping hazard
Doesn't trap 100% of the litter
5. Pieviev Cat Litter Mat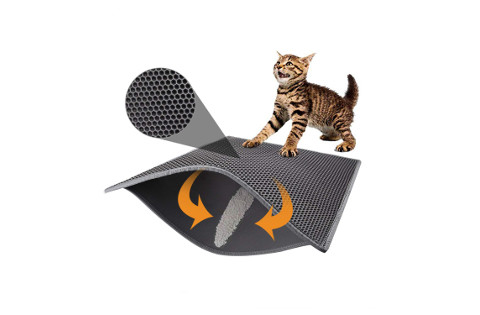 Pieviev's cat litter mat comes designed to be durable with a waterproof layer covering the entire mat that works to prevent urine from leaking through onto your flooring. You get a warranty that lasts for three years from the purchase date that makes it fast and easy to replace the mat if something happens to it.
The litter will fall from your cat's feet as they walk across the honeycomb design to get trapped on the second layer of the mat to prevent tracking. This mat is phthalate and BPA-free, and this makes it safer for your cat to use and be around.
The EVA material has a very soft and sleek texture that is gentle enough for cats with sensitive paws to use without a problem, and it comes with a single opening that makes it easy to pour the litter back into the box. The rubbery texture also works to stick to the floor when you place your mat.
People who bought this litter mat for use around their homes liked that they could just open the one side and let the trapped litter slide out. They did mention that this litter mat can take a few days to lay flat once you get it and put it out.
Things We Liked
Made out of a soft but durable material
Has a longer warranty than a lot of mats
Very easy to keep clean
Things We Didn't Like
May take a while to lay completely flat
Slightly heavy to try and lift to clean
May fray around the edges
What's the Litter Mat Top Pick?
Our top pick for the best mat to catch cat litter is the Easyology Premium Large Cat Litter Mat because it featured a very durable design that was resistant to everyday wear and tear. We liked the slightly plush design that was easy on our cat's feet when they walked across it.
The water-resistant layer was another bonus because it made it very easy to clean this mat when it needed it, and the rubberized coating on the back of the mat was another benefit that made this mat stay where we put it. Finally, the fact that it came in different colors and sizes took it to the top of our list.