Best Toys for Cats Home Alone to Prevent Boredom

By Debbie Short     Last Updated January 18, 2022

KittyWire may collect commissions on purchases made from the links on this page.
You most likely can't be home 24 hours a day, and this leaves plenty of time for your cat to get bored and engage in destructive behavior. Buying the best toys for cats home alone can help to alleviate this boredom, and there's no shortage to choose from when you start shopping.
Since there are so many of these interactive toys from dozens of different brands, you can quickly get lost looking for the best one. However, we've picked out the top five and provided short reviews about each one, and we've also written up a buying guide to outline what you should look for with these toys and why you'd need them.
Our Top Picks for the Best Toys for Cats Home Alone
Clues That You Have a Bored Cat at Home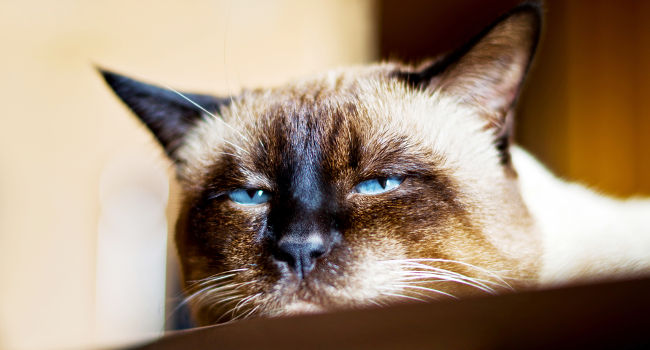 Leaving your cat at home by themselves for extended periods of time can lead to boredom, but there are several signs that your cat is getting bored. Knowing these signs can help you prevent destructive behavior in the future. They include:
Excessive Grooming - Your cat starts to constantly groom themselves to the point that they end up with missing hair, sore spots, and generally irritated skin. This can go away once your cat starts to have things to do instead of concentrate on their fur.
Sleeping - Cats do sleep a lot, but they can start to sleep even more if they don't have anything to do to entertain them. They can lose interest in what is going on around them, and this can lead to weight gain.
Fighting - If you have other pets in the house, your cat could start to pick fights with them in order to have something to do. This can get worse as they notice that the other pets engage them, and it increases the chances for injury.
Eating - Just like humans will do when they're bored, your cat can eat out of boredom. When you combine this with a lower activity level, you have a recipe for fast weight gain.
Destructive Behavior - Destructive behavior includes things like clawing your furniture, chewing on things that they're not supposed to, tearing blinds, and generally destroying your items. This behavior can be a way for your cat to try and entertain themselves, and toys can distract them.
Reasons to Get Interactive Cat Toys
There are several obvious reasons to get an interactive cat toy for your cat. Some are more obvious, but there are a few that may surprise you. They include:
Boredom - A bored cat can be a mischievous or destructive cat that gets into things that they know they're not supposed to. Interactive toys give your cat a way to relieve their boredom levels, and they can play with it as long as they like.
Health - Interactive cat toys can help to keep your cat trim and healthy, even if they only play with it for a few minutes each day. Along with the physical aspect, it's also great for mental stimulation to keep your cat's mind sharp as they age.
Relieving Anxiety - You most likely have ways that you relive your own anxiety, and your cat needs non-destructive ways too. Interactive toys give them an outlet to relieve their anxiety and channel their energy in a fun way.
Interactive Cat Toy Buying Considerations
Since there are dozens of interactive cat toys available, it's important that you look at a few different aspects to ensure that you get a quality toy for your pet. The following considerations are all important when it comes time to picking a toy.
Durability
Since your cat can get more rambunctious when they play with this toy, durability is going to be a big factor that comes into deciding how long your cat's new toy lasts. Make sure you pay close attention to any seams, edges, attachment points, or moving parts because these could be weak areas that break with rough play.
Noise
While noise may not be a bad thing when you're not home, it can potentially drive you crazy when you are. Take not on whether or not your cat toy makes noises, how loud they are, and whether or not you can switch them off.
Size
You don't want to get a cat toy that is too small or too large for your cat to enjoy, so take a look at the size of the toy. Make sure that the toy's size lines up with your cat's size, especially if it's a tunnel or a toy they can go in and out of.
Stability
If your cat's new toy isn't directly on the ground, make sure that it has a wider base or non-skid coating to keep it more stable. If it's not stable enough, your cat can accidentally flip it over when they play with it. This renders it pretty useless if you're not home to set it back up for them.
Safety
You want your cat to stay safe the entire time they play with their new toy, and you want to look for things like rounded edges with no jagged areas that could cut your cat as they play. Also, make sure that there aren't any really small spaces or parts that they could get stuck on or swallow to cause even more problems.
Our Top Five Picks for the Best Toys for Cats Home Alone
1. Petstages Tower of Tracks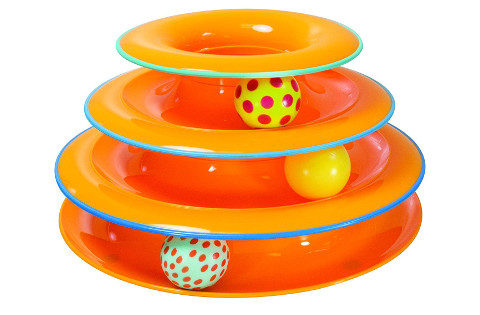 This interactive cat toy by Petstages comes with three brightly colored balls that roll and spin around three bright tracks for hours of fun. The closed top, combined with the wider base ensures that the balls won't escape when your cat plays with it, and this design also adds a layer of durability.
The bottom of this cat tower has a non-slip coating that helps to keep the toy in place after you put it on the floor and let your cat bat the toys around. The rounded edges are safe for your cat to bat and play around, and it's heavy enough that they can't simply tip it over.
The thicker plastic material is durable, and this toy comes built to withstand a lot of wear and tear from older cats and excitable kittens. Your cat can entertain themselves for hours with this toy, and you can also spin the balls to play with your cat when you're home with them.
Cat parents who bought this toy for their cat liked that it came with three tiers so cats of different sizes could play for hours. Cat parents who bought this toy did say that this toy is slightly smaller than it looks in the pictures.
Things We Liked
Comes with three tiers
Has a non-slip coating on the base
Designed to be heavier on the bottom for stability
Things We Didn't Like
Slightly smaller design
Track and balls are too close in color
May not be heavy enough for larger cats
2. SnugglyCat The Ripple Rug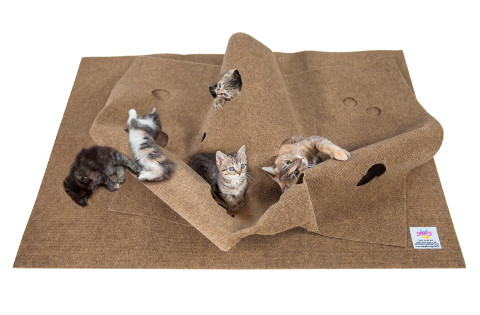 This multiple function toy is great for the cats who love to play in rugs because it'll keep them off your furniture. This fun cat toy comes with several tunnels and holes built right into the rug that your cat can play and sleep in, and it's big enough for multiple cat households.
The carpeting of this rug is a durable ribbed needle construction that makes it more resistant to fraying or breaking as your cat plays with it. The non-slip backing helps to hold the rug in place where you put it, and it also helps to ensure that the rug doesn't scratch your flooring.
You'll be able to quickly and easily clean this carpet with warm soap and water, and it's resistant to stains, mold, and mildew. This is an eco-friendly product that comes made out of recycled water bottles, and this construction method makes it safe for your cat to chew and play on.
People who bought this rug for their cats liked that it came with a ribbed needle construction to improve the overall durability of it. People who bought this rug did mention that it has a stronger smell when they first open it and take it out of the box.
Things We Liked
Features several tunnels and holes
Very easy to clean and maintain
Has a very durable construction
Things We Didn't Like
Can have a strong smell when you first open it
Holes may be too small for larger cats
Carpet may be on the thinner side
3. Prosper Pet Cat Tunnel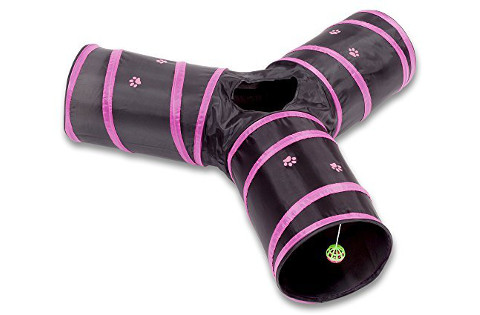 This triple opening cat tunnel comes in 16 different colors and patterns, and it comes with built-in crinkle paper that makes noise as your cat runs in, out, and through the tunnels. There is a peephole in the middle of the tunnel to give your cat somewhere to look out, and it also comes with a hanging toy attached to one tunnel.
The sprung-steel frame, combined with the durable polyester material, ensures that this tunnel with be able to survive wear and tear like biting, clawing, and scratching without a problem. It collapses flat, and this design element makes it very easy to pick up the tunnel and take it with you or store it when it's not in use.
Each tunnel is around 10 inches tall by 17 inches deep, and this slightly larger size makes it a good option for small and large cats to play in. You get a money-back guarantee when you buy this product that'll give you a refund if your cat isn't thrilled with it when you get it.
People who purchased this item for their cat loved that it had a sprung-steel frame coated with a durable polyester material to help prevent wear and tear. They did mention a few times that it can be difficult to collapse to store it.
Things We Liked
Has a very durable design
Comes with three larger tunnels
Able to store it or carry it with you
Things We Didn't Like
Can be difficult to collapse flat
Can be difficult to clean
May not fit a very large cat
4. Friends Forever Interactive Cat Laser Toy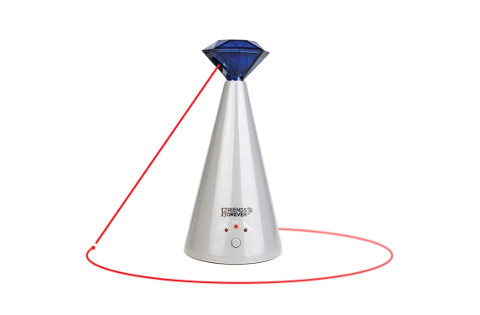 This laser toy has a unique diamond-shaped design coupled with a taller tower that gives the laser a slightly larger range when it runs. The laser moves in random rotating patterns across the floor that can help to keep your cat entertained and chasing it the entire time you have it on.
There is no cord or plug to worry about with this laser toy, and it runs for 15 minutes at a time before it automatically shuts off to prevent your cat from overdoing it. You can pick between three rotation settings of fast, slow, and random that make it a fun toy for cats of all ages to play with.
You'll get a full satisfaction guarantee when you purchase this laser toy, and you can get a full refund if it doesn't live up to your expectations. The wider base on this toy adds a layer of stability that can help to prevent it from falling over if your cat accidentally runs into it.
Cat parents who bought this laser toy liked that they could pick from three different laser patterns when they turned it on. Cat parents did say that it would be nice if this toy ran for more than 15 minutes at a time before it shut off.
Things We Liked
Comes with three different patterns
Has a wider base for added stability
Comes with a satisfaction guarantee
Things We Didn't Like
Only runs for 15 minutes
May not have a wide enough range
Batteries might not last a long time
5. JOYO Petlinks Electronic Motion Toy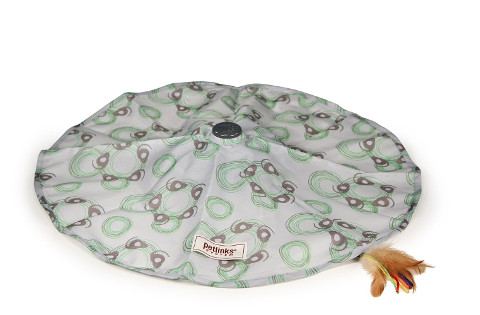 This toy comes in nine different varieties that allows you to customize your pick to suit your cat, and you can also set four different speeds ranging from slow to very fast. The toy doesn't have any set movements, and this helps to mimic the movement of your cat's natural prey for more fun.
The cloth that covers the toy comes made from a durable material that is resistant to wear and tear, and it'll be able to withstand claws and teeth without an issue. The feathered wand sticks out from the cloth and moves around in random patterns to entice your cat to chase it.
This toy comes with a low profile that makes it easy to place just about anywhere in your house to let your cat play with it for as long as they like. There is a self-timer built right into the toy that will start and stop it at intermittent times to keep your cat entertained all day.
People who purchased this interactive cat toy liked that it came with a timer that switched the toy on and off at random points to keep their cats entertained. People who purchased this interactive toy did mention that you can't just buy one replacement part, you have to buy a whole new toy.
Things We Liked
Available in nine different varieties
Has a timer that switches it on randomly
Comes with a durable skirt and wand
Things We Didn't Like
Not able to buy just a single replacement part
May be too small for larger cats
Feathers tend to fall out of the wand
What's the Best Toys for Cats Home Alone?
Our pick for the best toy for cats home alone is the Petstages Tower of Tracks because it has three fun and interactive levels of activities for your cat to enjoy with bright balls that spin and spin. It's made with a very durable plastic material with a wider bottom that helps keep the toy stable when your cat plays with it.
It also comes with a non-slip bottom that ensures the toy stays where you put it when your cat plays with it. Finally, this interactive toy comes with safe rounded edges that are safe for cats of all ages and sizes to play with.