Top 5 High Protein Low Carb Cat Foods for 2019

By Debbie Short     Last Updated August 17, 2019

However, it can be difficult to find the best one if you're not sure what you have to look for as you start to shop, and this is where our buyer's guide and reviews come in. We've picked our top five picks for this category of cat food, and our buyer's guide will outline exactly what you need in your cat's food.
Our Top Picks for the Best High Protein Low Carb Cat Foods
High Protein and Low Carbohydrate Cat Food Buyer's Guide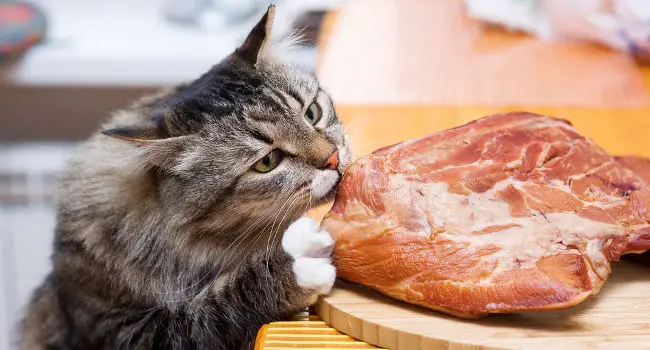 How much protein does your cat need? How about carbs? It's essential that you know the optimal protein and carb content in your cat's food because this allows you to check the label of the various foods you compare and choose the best one. The ideal content is:
Carbohydrates - 2.8 to 12-percent
Fat - 22 to 36-percent
Protein - 52 to 63-percent
Ideally, your cat's food should be on the lower end of the carbohydrate spectrum because this is where wild cat's diets are. It may not be possible to find these exact ranges, but you should be okay if your cat's food gets close to these ranges. It's also beneficial for a diabetic cat to have this type of diet with low carbohydrates.
Why Feed Your Cat This Type of Diet
By nature, cats are carnivores that ate a mostly protein-based diet with very few carbohydrates. Your cat may be domesticated now, but they still need the higher protein content to support healthy muscle growth and overall development.
Cats also had low carbohydrates in their diet, and it came from the other parts of the animal they ate. You don't see cats in the wild eating fatty or plant-based diets, and carbohydrates lead to weight gain. Feeding your cat lower carbohydrates helps them maintain a healthy weight, and this is especially important as they age or if they're diabetic.
Benefits of Feeding a Low Carbohydrate and High Protein Diet
There are several benefits that come with feeding your cat this type of diet. If you're searching for reasons to make the switch, we invite you to take a look at our list below.
How to Find the Best Food for Your Cat
There are several key things that you want to look for when you start to compare various cat foods. These things will help to ensure that you get a healthy food, and it includes things like:
AAFCO Rating
You want to check your potential cat food on the Association of American Feed Control Officials (AAFCO) rating to see how to compares to their suggested nutrient guidelines. The closer the food is to these guidelines, the better it will be for your cat to eat because it closely mimics a higher protein diet.
Calories per 100 Grams
Along with the nutrient label, your cat's food will have the calories per every 100 grams of food. You want a lower calorie count in the food, because this is usually a good indication of the carbohydrate levels, and too many calories is a fast way for your cat to gain weight.
Controversial Ingredients
Pet food manufacturers can sneak more controversial ingredients into their cat food by hiding it in the middle or near the bottom of the ingredient list to bulk up the formula. These things offer little, or no nutritional value for your cat and they include by-products, meat meals, artificial colors or flavors, soy, corn, wheat, and rendered fats.
First Three Ingredients
Make sure that you take a look at the first three ingredients listed on your cat food's label. These three things will make up the bulk of the cat food formula, and it can give you a good idea on whether or not it's healthier. Ideally, you want meat listed as the first ingredient.
Macronutrient Profiles
The macronutrients in your cat's food include things like the dry-matter basis, caloric basis, and the guaranteed analysis. These things should work to support your cat's body each time they eat it, and they're usually listed separately off to the side of the nutrient label.
Price
Price is going to play a role in which food you ultimately choose because these types of food tend to be slightly more expensive per pound than less healthy foods. It works just like junk food to healthy food for humans. Find a price that's comfortable, and narrow your search down from there to find the best option for your cat and your budget.
Related: Best High Calorie Cat Food
How to Compare Cat Food Brands
Since there are hundreds of types and brands of cat foods available, it can be very overwhelming to try and compare them all to find the best one. You can find websites that have unbiased reviews of the different brands as a starting point and choose the ones with the highest reviews.
A second option is to find a website that allows you to input the different brands you want to consider and it gives you a comprehensive analysis of the food side by side. This way, you'll be able to tell at a glance which foods are better for your cat, and you can then shop from here.
Top Five High Protein Low Carb Cat Foods for 2019
1. Merrick Before Grain Meat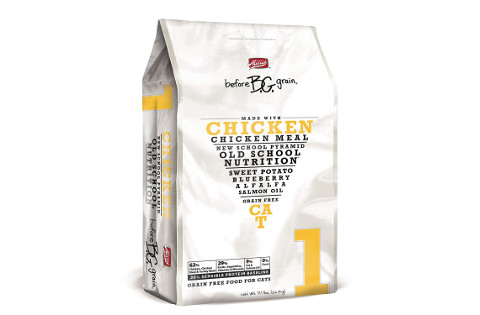 Merrick's Before Grain Meat cat food comes formulated with a 36-percent baseline protein that comes from deboned chicken as you can find it on the ingredient label. You can also choose from salmon as the main protein source, and this food comes balanced for a complete meal.
The formula has 63-percent meat content, and this comes followed by 29-percent vegetables, fruits, and minerals, and 9-percent fat and salmon oil that helps to give your cat a filling meal. This food is also free of grains, and this is great for any cats that have allergies or sensitivities.
You'll be able to feed this food to your cat with confidence because it comes with a newly redesigned formula that puts more emphasis on good protein sources that are easy for your cat to digest. This food is made in the United States to very strict quality control standards.
Cat parents who bought this food for their cat were happy that it had a very high protein content that was supported by fruits and vegetables. Cat parents did say that this food could have a stronger smell when they first opened the bag, but it tended to fade.
Things We Liked
Has a newly redesigned formula
Comes with a high protein content
Has good levels of fruits and vegetables
Things We Didn't Like
May have a strong smell
Kibble can be more crumbly
Can give some cats gas after they eat it
2. Blue Buffalo Wilderness High Protein Adult Dry Cat Food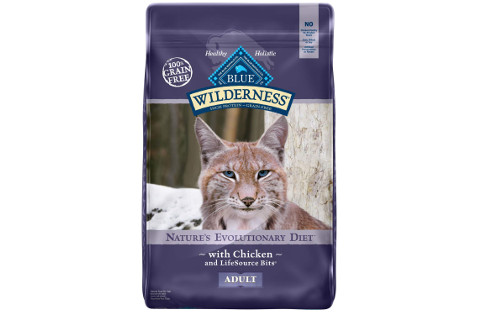 Blue Buffalo's high protein cat food comes with two different protein sources and five different sizes that allow you to pick the one that suits your cat the best. Meat is the first ingredient on the label, and it comes from verified and trusted sources.
Blue Buffalo's food comes with an exclusive blend of balanced kibble and LifeSource Bits that contain an exclusive blend of antioxidants, vitamins, and minerals for total body support. The fatty acids help to ensure that your cat has a healthy and shiny coat combined with nourished skin.
This food only uses higher quality ingredients, and the formula itself contains no wheat, soy, corn, artificial preservatives, and poultry or chicken by-product meals. Your cat will get a formula that supports immune health, a healthy heart, brain health, skeletal system health, and a healthy digestive system.
People who purchased Blue Buffalo for their cat liked that it came with a real protein source as the first ingredient that came from a trusted and verified source. People did comment that this was one of the more expensive foods to give their cats at almost $3.00 per pound.
Things We Liked
Has kibble and Blue LifeSource Bits mixed in
Comes with total body support
Contains fatty acids, antioxidants, vitamins, and minerals
Things We Didn't Like
Comes with a slightly higher fiber content that can slow down digestion
More expensive than other choices
Food may be too hard for some cats to eat
3. Purina Pro Plan True Nature Wet Cat Food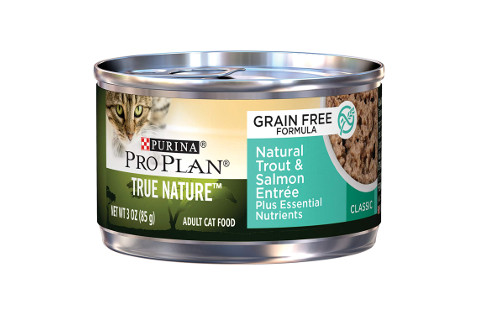 Purina Pro Plan's wet cat food comes in pate or gravy form, in two different sizes, and 10 different formulas with different protein sources and grain-free options. It has 11-percent crude protein per can, and it gives your cat completely balanced nutrition each time that they eat it.
This wet cat food is optimized to give your cat an immune system boost, sharp reflexes, and healthy development throughout their lives from kitten to senior. There are no artificial colors, preservatives, or flavors in this food to make it a healthier formula.
Each can of food has a higher protein content to help support lean muscles, supported joints, and cardiovascular health throughout your cat's life. There are approximately three-percent carbohydrates, and this lower level is excellent for helping your cat lose or maintain a healthy weight.
Cat owners who purchased this wet cat food were happy that it came in so many different flavor choices, sizes, and styles so they could pick and choose which suited their cats. Cat owners did mention that the pate was slightly drier than other pate cat food they'd given their cats.
Things We Liked
Choose from several different protein sources
Support lean muscles and immune health
Very low carbohydrates to help maintain a healthy weight
Things We Didn't Like
Pate may be drier than other brands
May cause digestive upset in sensitive cats
Can have a stronger smell
4. CRAVE Grain Free High Protein Dry Cat Food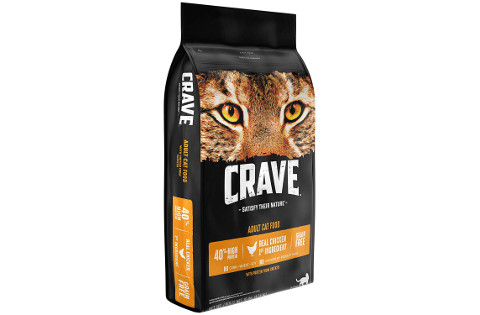 Crave's high protein cat food comes with a 40-percent protein content, and you can choose from two different formulas, four different protein sources, and three different sizes. Real protein is the first ingredient on the bag, and this is a grain-free cat food formula.
This food contains no artificial flavoring, preservatives, colors, soy, wheat, corn protein, or chicken by-product meal for a healthier formula. The higher protein content helps mimic your cat's traditional diet, and it helps support lean muscle, healthy digestion, and a healthy immune system.
The smaller kibble sizes with this cat food ensure that your cat will be able to quickly and easily eat it throughout their lives without running into issues. Additionally, this cat food contains a great blend of vitamins, minerals, fruits, vegetables, and low carbohydrates for optimal health.
People who bought Crave's dry cat food for their pet liked that it comes with a healthy formula that is free of grains and artificial preservatives. People who bought this dry food for their cat didn't like that it seemed to be too bland for more picky cats.
Things We Liked
High protein content mimics a cat's natural diet
Has smaller kibble pieces
Available in different flavors
Things We Didn't Like
May be too bland for some cats
Kibble pieces are smaller and harder
Has more plant protein than meat protein
5. Instinct Ultimate Protein Grain Free Recipe Natural Cat Food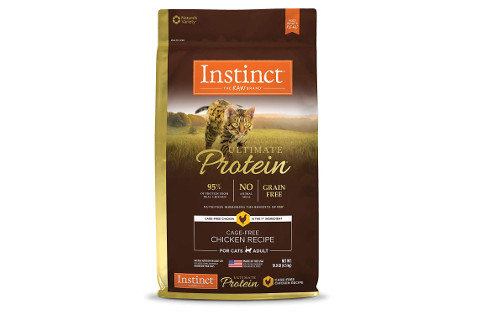 You can choose from dry or wet food, four sizes, and two protein sources that allow you to customize your picks to suit your cat's styles and tastes. This formula has three times more chicken and 95-percent of the protein in this formula comes from animal sources.
It has an exclusive blend of probiotics that help support digestive health, antioxidants for immune health, and fatty acids for coat and skin health. Every piece of kibble has a freeze-dried coating that helps preserve the nutrient and protein content of the food during the processing process.
This food comes whole food ingredients, and raw meat that is minimally processed and protein packed to help preserve all of the original nutrients. There are no potatoes, soy, corn, wheat, by-product meals, artificial preservatives, or colors in this formula to make it healthier.
Cat parents who purchased this brand of cat food for their furry friend were happy that it comes in both wet and dry formulas with various protein sources. Cat parents did mention that chicken fat and ground flax seed seems to make up a large portion of this food.
Things We Liked
Has a great blend of probiotics and antioxidants
Has minimal processing with a freeze-dried coating
Available in wet and dry forms
Things We Didn't Like
May have too much flaxseed
Can cause minor digestive upset in certain cats
Concerns over recent formula changes
What's the Best High Protein Low Carb Cat Food?
Our pick for the best high protein low carb cat food is Merrick Before Grain Meat because it has a high protein content that is immediately supported by minerals, fruits, vegetables, and healthy fats. We also chose it because you could pick either chicken or salmon as the main protein source.
We liked that it recently underwent a formula change to make it healthier for your cat to eat every day. Finally, we chose it because all of the ingredients come from verified sources in the United States for a healthier formula.