Top 5 Automatic Cat Feeders with Collar Sensor

By Debbie Short     Last Updated January 18, 2022

KittyWire may collect commissions on purchases made from the links on this page.
If you have a single cat or multiple cats, you know how difficult it can be to make sure they all get fed while keeping their food fresh. Automatic cat feeders with collar sensors can help to alleviate this problem, and there are both large and small options available to compare.
Since this can be an expensive investment for your cat, you want to make sure that you make a reliable and durable choice. We've pulled five of the best automatic feeders with sensors and compared them, and we've also put together a quick buyer's guide that will outline what you need to consider when you shop below.
Our Top Picks for the Best Automatic Cat Feeder with a Collar Sensor
What is an Automatic Feeder with a Collar Sensor?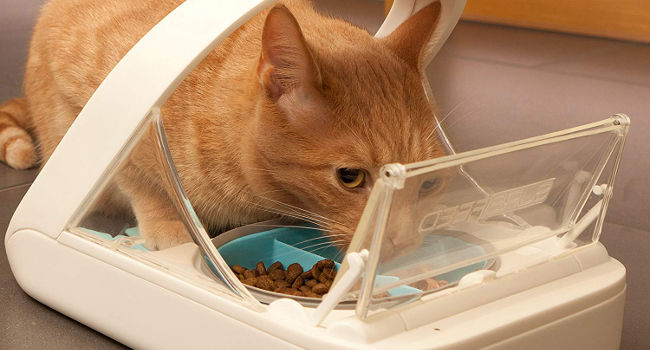 This type of feeder comes with a locked area for your cat's food bowl to sit in, and it stays covered until your cat's tag sensor comes in range and activates it. Once it does, the door opens and lets your cat eat, and it stays open until your cat moves away from the sensor and the door closes again.
You can choose from several different sizes and styles, and some come with portion control options while others allow you to put as little or as much as you'd like for each serving. Also, you can get feeders that hold multiple meals worth of food, and it automatically dispenses at your set times.
Why Get a Collar Activated Feeder for Your Cat?
There are several reasons why you'd want to pick up one of these feeders for your cat or cats. We're going to outline the most essential ones below.
Competitiveness
In a multiple cat or pet household, there are going to be naturally dominant and more submissive cats, and the more submissive cats can miss out of their food because the stronger personalities push them out of the way. Additionally, it can also help to alleviate food guarding or fighting among your cats if you purchase smaller feeders and each cat gets one.
Weight Control
If you get a feeder with portion control, it can help you set your portions or slowly scale back on your cat's food to help control their weight and combat obesity. Your vet can suggest the optimal portion to bring your cat to a healthy weight and maintain it, and you can set this up with your feeder.
Keep Food Fresh
If your cat eats wet food and they don't eat it all in one sitting, it can get dry and hard if you leave it out exposed to the open air. Automatic feeders usually form an airtight seal that helps to keep your cat's food throughout the day because it also closes after your cat finishes eating.
Savings
Cat food can be very expensive, especially if you have a special diet to keep your cat healthy. These feeders ensure that only the cat that is supposed to eat it has it, and it also keeps it fresh to prevent you from throwing it out. In turn, you can save a lot of money over the feeder's life.
Buying Considerations for a Collar Activated Cat Feeder
There are several things you want to keep in mind when you shop for your new feeder for your cat. Since its a more expensive option, you want to make sure you find the best one to suit your needs.
Size
Do you want your feeder to feed one cat a single meal, or do you want a feeder that holds several days worth of food in a single fill? Consider how many cats you have and how much you want to feed them. Smaller feeders are good for daily fills, but larger ones give you a few days between filling.
Single or Multiple Cat
If you have multiple cats, make sure that your automatic feeder supports multiple cats with either additional collar sensors or microchips. You can also buy a feeder for every cat, but these are smaller and only hold one meal per fill.
Wet or Dry Food
Do you want to feed your cat wet food, dry food, or a combination of both? Some feeders are exclusively dry food while others have split dishes that let you fill one side with dry food and one side with wet food.
Stability
Your cat food dish should be very stable and bottom-heavy to prevent your cat from pushing the food dish around or over. Also, you want to get a non-slip coating on the bottom of the feeder so that it doesn't slide around when your cat eats from it to prevent spills.
Price
These feeders can start at $50 and go up to over $200, so your price point is going to be very important. You should have a price point in mind before you start shopping so you know what you can and can't afford, and this can help to narrow down your search from the start.
Safety
The safety of the materials is very important since your cat will be eating out of this feeder, and you want something with non-toxic materials. Look for a food bowl that is stainless steel or ceramic, and make sure that the plastic is non-toxic and BPA-free.
Our Top Five Picks for the Best Cat Feeder with Collar Sensor
1. SureFeed Microchip Pet Feeder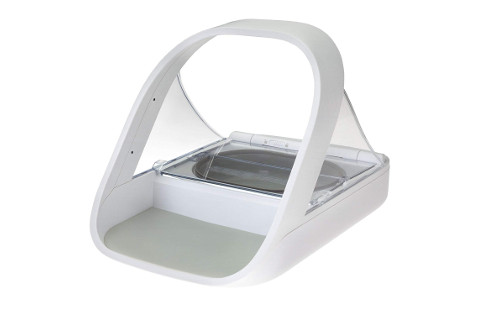 This automatic cat feeder holds 13.5-ounces of either wet or dry cat food without a problem, and it has a clear lid that allows you to see exactly how much food is left in the feeder. The lid forms an airtight seal when it closes, and this helps to keep food fresh between feedings to keep your cat happy.
This cat feeder works with either a collar (sold separately), or you can use it with your cat's 9 (Avid Secure), 10 (FDXA) and 15 (FDXB) digit microchip number by triggering when your cat gets in range. Also, it only takes the push of a single button to program it to your cat.
You'll get a full three-year warranty when you buy this product against failure, defects, or damage, and this is excellent since its slightly more expensive. The design makes it very easy to clean by running a damp cloth over it between feedings, and you can simply let it air dry.
Cat parents liked that this feeder formed an airtight seal when it closed to help keep the food fresh between meals. Cat parents didn't like that his cat feeder doesn't close right away, and this can be a problem with multiple cat homes.
Things We Liked
Works with a collar and a microchip
Programs with a single button
Lid forms an airtight seal when it closes
Things We Didn't Like
Does not close right away when your cat finishes eating
May not open until your cat gets right up to the door
Might not be durable enough for really determined cats
2. Automatic Pet Feeder - Wireless Whiskers AutoDiet Pet Feeder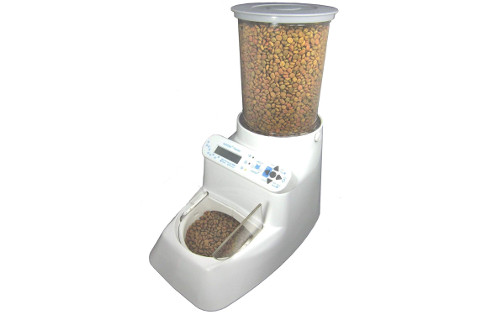 This high-tech automatic feeder comes with two programmable tags in every order that makes it good for households with multiple cats, and it has a small control panel that allows you to program it and adjust the settings quickly and easily. It also gives you a large storage compartment that holds a lot of dry food.
The bowl's sensor is lower to the ground, and this makes it ideal for cats to trigger while your taller dogs or animals won't be able to trigger it. The clear storage bin lets you monitor the amount of food, so you know when to refill it.
You can also put your cat on a diet by telling the feeder to cut back the normal portions by 30%, and this allows you to manage your cat's weight and implement a successful diet plan. If your cat doesn't wear a collar, you can clip the tag onto a harness, and it'll work just fine.
People who bought this feeder for their cats were happy that it came with a broad bottom that made this setup very secure and stable. People did point out that this feeder doesn't work with wet cat food very well, and it also needs smaller kibble.
Things We Liked
Very easy to set up and operate
Can hold several feeding sessions worth of food
Comes with two collar tags
Things We Didn't Like
Doesn't work well with larger kibble or wet food
Has a very precise tag reader that can take time to get in position
No measurement system for dry food
3. Our Pets Wonder Bowl Selective Pet Feeder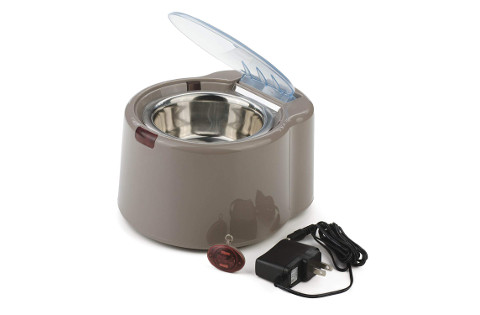 This smaller feeder works well for cats of all sizes, and it features a very simple and straightforward design that is easy to operate and maintain. You get a small stainless steel bowl that slides into the chamber to hold the food and keep it fresh, and it also makes it easier to clean.
The clear lid snaps shut between feedings, and this helps to prevent other animals in the house from eating the individual cat's food. You'll also find a manual latch that lets you open and close the lid between feeds to refill the bowl or remove it to clean it.
You'll get a tag and an internal system that you can switch on and off to transmit frequencies that allow the setup to open when your cat comes near it. It also comes with a very durable and sturdy design that has a non-slip coating to prevent it from moving when your cat uses it.
Cat parents who bought this feeder for their cat liked that the stainless steel bowl slid in and out very easily between feedings for easy cleaning. Cat parents didn't like that you have to buy an adapter and a tag along with the feeder system separately.
Things We Liked
Features a clear lid that lets you monitor the food levels
Has a manual open/close button
Able to purchase a few collar sensors
Things We Didn't Like
Have to buy additional parts for it to work
Not suitable for larger pets
Lid may not open all of the way
4. PortionProRx Automatic Pet Feeder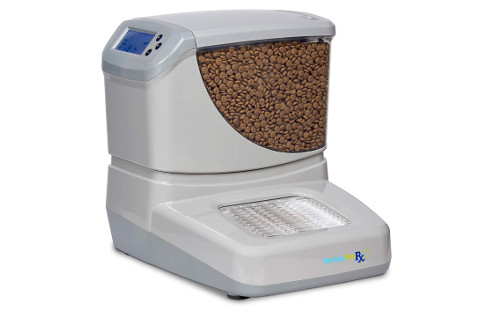 This large feeder is excellent for multiple cat households because it can hold up to 32 cups of dry food, and the storage bin is clear so you can easily see how full it is or if you need to refill it. You get one tag system when you buy this device, but you can purchase and use multiple tags without a problem.
You can set different portion sizes and adjust them all quickly and easily to help put your cat on a diet or boost their intake. The system lets you scroll through it to see what your pet ate at past meals to allow you to track exactly what they do and don't eat at every mealtime.
This feeder system comes with a ceramic coated steel bowl that is very durable, safe, and easy to clean between mealtimes. The door also comes with a built-in sensor to stop it from snapping shut if your cat is in the way to help prevent injuries.
People who purchased PortionProRx's feeder liked that the door kept the food fresh between feedings, and they also liked that it had a sensor that prevented it from snapping shut. People who purchased this feeder weren't happy that it didn't come with the ability to add wet food.
Things We Liked
Able to monitor how much your cat ate each meal
Can set multiple portion sizes
Lid is durable enough to withstand pushing on it
Things We Didn't Like
Can take a while to learn to program
Only comes with a single tag
Door can be noisy each time it opens
5. Surefeed Sealed Pet Bowl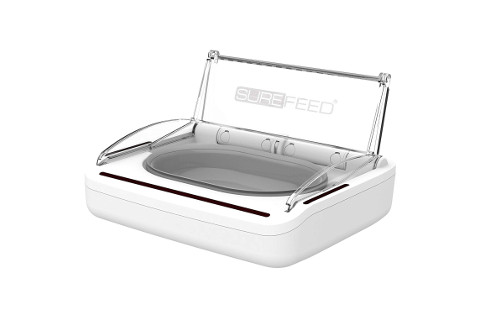 This small, simple, and sleek single food bowl by Sureflap comes with a flat and compact design that allows you to easily put it almost anywhere without a problem, and its flat to the ground so you cat can't flip it over. The stainless steel bowl slides out of the feeder to allow for fast and easy cleaning.
This food bowl comes with a sensor that flips the lid open when your cat comes up to it and wants to eat, and it has a battery indicator light that lets you know when you should swap them out. The door seals tightly to prevent odors from escaping, and it also helps to keep your cat's food fresh between meals.
The lid comes with a silent and slower operation that makes it less intimidating for skittish cats to use, and it automatically closes when it senses your cat moved away from the bowl. This bowl comes with a training mode that lets you manually open and close the door when your cat approaches it to get them used to it.
Cat parents who purchased this simple cat feeder liked that you could get a double bowl to put both wet and dry food into the feeder at the same time. Cat parents didn't like that the cat had to be right above the bowl before it opens for them to eat.
Things We Liked
Has a very simple and straightforward design
Comes with a dual bowl for wet and dry food
Very easy to clean
Things We Didn't Like
Door may not open all of the way in training mode
Cat has to be right on top of the sensor for it to open
May be too small for larger cats
What's the Best Cat Feeder with a Collar Sensor?
Our pick for the best automatic cat feeder with a collar sensor is the SureFeed Microchip Pet Feeder because it has a very simple but effective design with a flat profile that stays in place when your cat uses it. We also liked that it was very easy to clean, and you can pop the dish into the dishwasher to keep it clean.
The clear door was another nice touch that allowed us to monitor the food level in the bowl with a glance. Finally, we liked that you could use it with the collar sensor or three different microchips without a problem.