Best Cat Food for Diarrhea to Help Prevent Digestive Issues

By Debbie Short     Last Updated March 9, 2022

KittyWire may collect commissions on purchases made from the links on this page.
Some cats have digestive issues that cause things like vomiting, diarrhea, stomach issues and more. Having sensitives to ingredients in their food is a very likely cause of all of these issues, and picking out the best cat food for diarrhea can help alleviate them.
Since there are hundreds of brands and types of cat food available, it's easy to get overwhelmed when you first start looking for one for your cat. We've rounded up and reviewed the five best foods available, and we've also outlined important facts to consider in our buyer's guide.
Our Top Picks for the Best Cat Food for Diarrhea
Understanding Diarrhea in Cats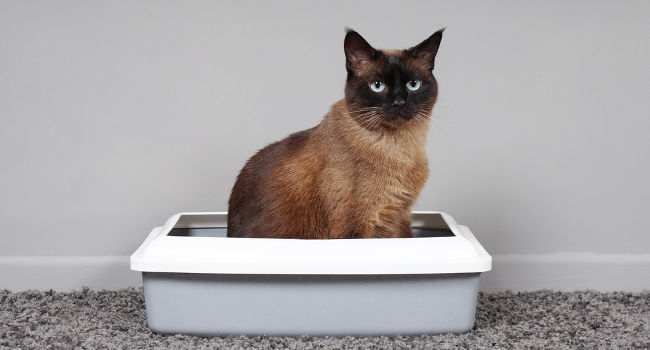 Diarrhea is loose stools, and it's not a common occurrence in healthy cats. Your first clue that there is something up with your cat is noticing an increased volume of feces in your cat's litter box when you go to clean it out.
The first thing you want to do is to monitor your cat and try and find out the severity of your cat's diarrhea and whether or not it's an ongoing issue. If you notice it going away rather quickly, it was most likely a reaction to something your cat drank or ate that temporarily upset their stomach and caused the diarrhea.
If the diarrhea problem persists for a week or more, it's now entering chronic territory, and it could be a red flag that your cat isn't reacting well to something in their diet. Cats can develop sensitivities or allergies to their foods seemingly out of the blue, and it's one of the most common causes of ongoing diarrhea.
Common Food Sensitivity Symptoms That Go Along With Diarrhea in Cats
Fortunately or unfortunately, diarrhea usually isn't the only clue that your cat has a sensitivity to their cat food. There are several other symptoms that your cat may display that will give you a good idea on whether or not it's the food or something else causing your cat's issues. They include but are not limited to:
Dehydration - Your cat can lose a lot of nutrients if their diarrhea is an ongoing problem. This can also lead to dehydration because your cat simply isn't able to replace the amount of water they're losing fast enough.
Fatigue - Fatigue or lack of interest in their normal activities is another indicator that something isn't right with your cat. The fatigue can get worse as the diarrhea issue continues on, and it can lead to more severe health complications.
Fever - A fever is a sign that your cat has something going on that is causing their immune system to react in a way that will kill any possible infection. You can take your cat's temperature rectally, and a fever is considered to be anything over 102 degrees.
Vomiting - If your cat's stomach gets upset enough, they can vomit after they eat. This is due to their bodies trying to dispel whatever is in the food that can cause the sensitivities, and it may be periodic or every time they eat.
Related: Best Cat Food for Sensitive Stomachs
When to Schedule a Vet Visit
Ideally, you don't want your cat's diarrhea problem to go on too long, and you should consider getting in touch with your vet if your cat's diarrhea persists for more than 24 hours. You want to keep track of when the onset point was, what the frequency of the diarrhea is, the severity, and any possible causes like switching out their food.
Your vet will be able to give your cat fluids if they've gotten to the point of being dehydrated, and they can also suggest a treatment plan to help curb the episodes and severity of your cat's diarrhea. If you notice that your cat's abdomen is tender or bloated, contact your vet straight away because this can be a sign of a dangerous health problem.
What to Look For in the Best Cat Foods for Diarrhea
There are arguably dozens of things that you could look for when you're selecting your new food for cats with diarrhea, but we've outlined the most important ones for you below. It may take a few tries before you find the best food available, but it's possible.
Rich in Fiber
Fiber is the ingredient in your cat's food that helps to firm up their stool and ensure that their digestive system stays on track. You want to find a food that has a higher fiber content than you find in traditional cat food, and this fiber is especially important if your cat has chronic diarrhea issues.
High Protein
Protein is what gives your cat energy and helps them to build lean muscle and maintain a healthy weight. The nutrients in protein are critical if your cat has diarrhea because it can help replace many of the missing nutrients that your cat loses from going to the bathroom so much.
Free of Grains
Many cats have a problem digesting any types of grains because they're carnivores by nature, and switching your cat to a grain-free food is usually a good way to stop any stomach upset and to make it easy to digest. Make sure that the food doesn't use wheat as a thickening agent if you have a wet food because it's popular.
Prebiotics
Prebiotics are nutrients that help to stimulate your cat's digestive system to produce more good bacteria to help reduce the chances of digestive issues. You can usually find prebiotics mixed in with the dietary fiber, but not all cat foods have them, so it's important to check.
Organic or Natural
Non-organic or non-natural cat food typically contain GMOs and other added ingredients that make the cat food look better and last longer. This can upset your cat's stomach, and choosing an organic or natural food helps to prevent these common additives and ingredients from wreaking havoc on your cat's system.
Vitamins and Nutrients
Your cat's food should contain a higher amount of essential vitamins like vitamin A, E, and C to help firm up their stool and stop the diarrhea. Nutrients like fiber and probiotics are also essential when it comes to helping your cat stay regular, and you should see them all on the label.
Top Five Cat Food for Diarrhea Picks
Best Overall: Royal Canin Feline Digestive Care Dry Cat Food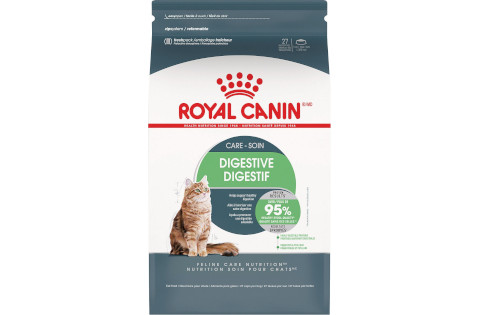 Royal Canin's cat food comes in multiple sizes that allow you to quickly and easily select the size that is best for your cat, This food comes specially formulated for cats that have digestive issues or sensitivities that can cause diarrhea.
The highly digestible proteins in this cat food combined with the higher level of prebiotics ensures that your cat's system gets and stays regular, and your cat also gets a higher amount of nutrients in a smaller portion size. This cat food comes designed to be highly palatable for your cat.
This food helps to promote a balanced digestive system by helping to increase the good bacteria levels, and this can reduce the amount of diarrhea or soft stools your cat has. There are also a few different formulas from Royal Canin that you can pick from until you find the best one for your cat.
Cat parents who bought this food loved that it worked to actively restore balance to their cat's digestive system by encouraging good bacteria growth. Feline owners did mention that they had a few issues getting their more picky cats to eat the food and enjoy it on a regular basis.
Things We Liked
Designed to help balance good bacteria
Comes in three unique shapes
Gentle on your cat's digestive system
Things We Didn't Like
May make the diarrhea worse as you transition your cat over
Can take a while to show results
Might be too bland for picky cats
Best Wet: Halo Grain Free Natural Wet Cat Food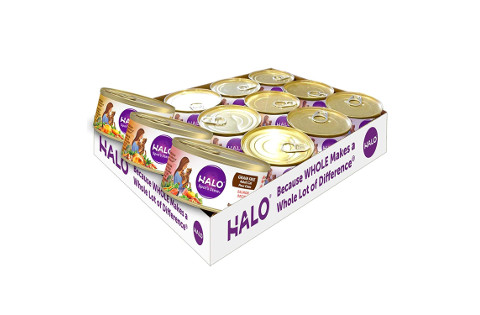 Halo's natural canned cat food comes with real meat like fish our poultry listed instead of meat products or by-products to make it healthier for your cat to eat. This cat food helps to increase your cat's water intake due to the higher water content, and it comes with an aroma your cat will love.
This canned cat food is free of any grains, and it contains a healthy mix of whole salmon, chicken, turkey, and non-GMO vegetables in the ingredients. It has no artificial flavoring, colors, or preservatives that make it gentle on your cat's digestive system each time they eat it.
Your cat will get a dose of Taurine each time you give them this wet cat food, and Taurine helps to support eye health, brain health, digestive health, and energy levels. The soft formula makes this food a great choice for cats of all ages.
People who purchased this wet cat food for their feline friend liked that it comes in a variety pack that lets them give their cats options when they eat. They did talk about how strong this canned cat food smells, and the smell can linger around for a few hours after they open the cans.
Things We Liked
Contains whole meat products instead of meat meals
Contains no grains or GMO vegetables
Increases your cat's hydration levels
Things We Didn't Like
Can have a stronger smell
Dries out quickly after you open it
May cause mild digestive upset at first
Best Dry Food: Iams Proactive Health Sensitive Stomach Adult Cat Food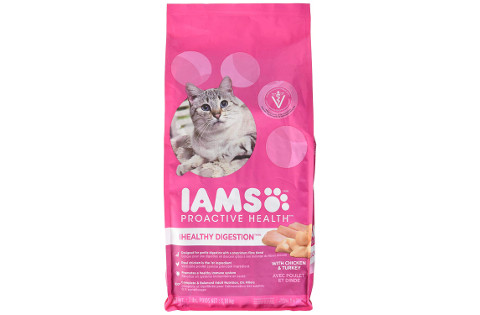 Iams brings a food that gives your cat 100% balanced nutrition each time they eat it with no filler ingredients, and real chicken is on the nutrient label as the first ingredient. This food is very rich in protein to help support healthy and lean muscle growth while also helping cats with sensitive stomachs.
Your cat will get a tailored fiber blend with a higher level of prebiotics to help regulate your cat's stomach and digestive issues and keep them regular. It also helps to support your cat's ability to get as many nutrients as they can from the food each time they eat it.
The smaller crunchy kibble pieces are easier for your cat to eat, and the crunchy texture of the kibble also helps to clean your cat's teeth and prevent plaque. There is also a higher level of antioxidants in this food, and this higher antioxidant content can help give your cat's immune system a boost.
Cat parents who bought this dry cat food for their furry friends were happy that it came with a great blend of dietary fiber and prebiotics to regulate their cat and prevent diarrhea. People who had cats did say that this food can have a slightly greasy feel to it.
Things We Liked
Contains prebiotics and dietary fiber
Has a higher level of antioxidants for immune health
Crunchy kibble helps to clean teeth
Things We Didn't Like
Can have a slightly greasy feel
May be too hard for older cats
May be too strong for extreme sensitivities
Best for Kittens: Blue Buffalo Wilderness Kitten Pate Wet Cat Food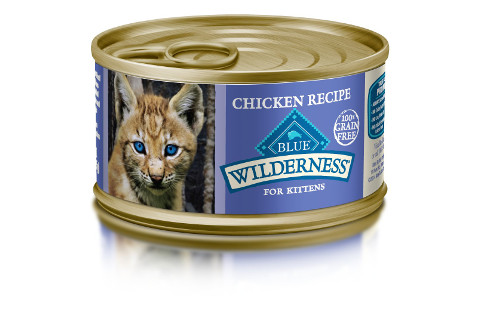 Blue Buffalo's kitten food comes in a chicken recipe, salmon, or even a variety pack that allows you to pick which one your kitten likes more, and it comes packed with vitamins and minerals to support healthy growth. This high quality food also comes with real meat as the first ingredient on the bag.
This kitten food is totally free of grains, and this includes using wheat products as a traditional thickening agent. It comes with no by-product meals, artificial flavors, artificial preservatives, wheat, corn, or soy to make it easier for your kitten to eat and digest.
You get 24 cans per order, and this is more than enough to last your kitten for almost two weeks per order. Since it's designed to be easy on your cat's system, your kitten will be able to absorb as many nutrients as possible every time you feed them.
People who bought this kitten food liked that it comes with a lot of vitamins and minerals to support healthy growth throughout their cat's lives. People who bought this food did say that it is slightly more expensive than other choices available.
Things We Liked
Comes in several different flavors
No wheat, corn, or soy in the formula
Packed with vitamins and minerals
Things We Didn't Like
Slightly more expensive than other brands
May not be wet enough
Can have a slightly stronger smell
Best for Seniors: Purina Pro Plan PRIME PLUS Senior 7+ Cat Food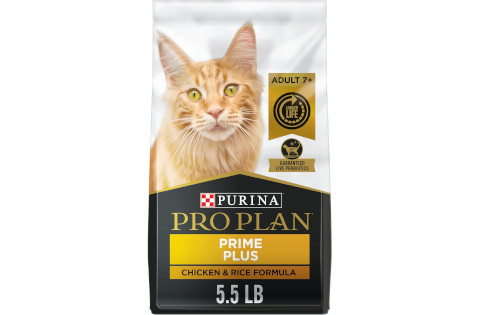 You'll get the choice of three different sizes and two different flavors that includes chicken and rice or salmon and rice. Meat is the first ingredient listed on the bag, and this makes it a healthier option for your senior cat.
This food gives your senior cat a 100% balanced meal every time they eat it, and the kibble pieces come designed to be quick for your cat to bite and digest. Along with providing your senior cat with all of the vitamins and nutrients they need, it also works to help support a strong immune system.
Your cat will get a blend of prebiotics, antioxidants, fiber, vitamin E, omega 3, fatty acids and beta-carotene to help prevent diarrhea or digestive upset while helping to nourish your cat's skin and coat. These ingredients help to support your cat well into their senior years, and it also provides lean muscle growth and a healthy weight.
People who bought this food for their senior cats liked that this kibble was specially designed to be easy and quick for your cat to bite and digest. They did mention that this food can get stale and start to crumble quickly if you don't keep it in a sealed container.
Things We Liked
Has a smaller kibble size
Comes in a few different flavors
Helps to support a healthy skeletal and immune system
Things We Didn't Like
Can go stale quickly if you don't seal it
May have too big of kibble pieces for smaller cats
Might come with a stronger smell
What's the Best Cat Food to Prevent Diarrhea?
Our pick for the best choice for a cat food for diarrhea is
Royal Canin Feline Digestive Care Cat Food because it targets common digestive issues cats can have, and it's formulated to help soothe them. The prebiotics and fiber content in this food help to keep your cat's system regular and free of diarrhea or other problems.
We liked that this food helped to increase the good bacteria in your cat's system, and it's also very palatable for cats to eat again and again. Finally, we liked that it came with a few flavor options that we could switch out to keep our cats interested.